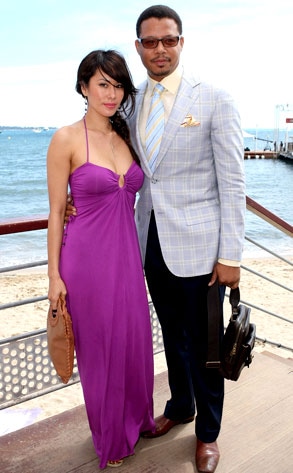 Fame Pictures
When we talked to Terrence Howard a few days ago at the Cannes Film Festival to get his thoughts on Iron Man 2, we tweeted a photo of him and his lovely lady friend. Little did we know at the time, but that's the new Mrs. Howard.
Yes, the 41-year-old Hustle & Flow sta rhas given marriage another shot, secretly tying the the knot with Michelle Ghent-Howard, 33, in a private Los Angeles ceremony back in January.
Howard broke the news to CNN's Anderson Cooper earlier this week while making the promo rounds for Winnie, a biopic in which he plays Nelson Mandela opposite Jennifer Hudson's Winnie Mandela.
"To come here and be with my wife, it's the best feeling in the world," said the actor.
The twosome has been making the Riviera scene this week. Our twitpic was snapped during their stop at the Terazza Martini party for Winnie.
According to Us Weekly, Ghent-Howard is a commercial production worker. No word how long the couple have been dating.
Howard was previously married Lori McComma.Their 13 years together included good times (like their three children) and bad (like his his 2001 arrest for domestic violence). After a brief reconciliation, they split for good in 2005.