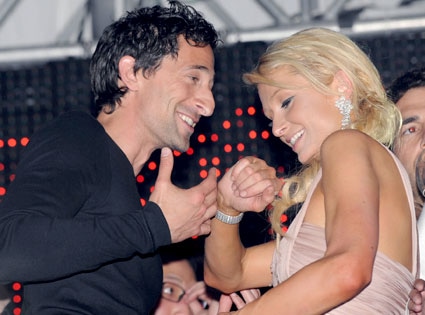 ANG/Fame Pictures
Could there be a romance brewing between the Oscar winner and the newly single blonde, who've been spotted together all over the south of France?
"They were at Billionaire for the 1Oak party and dancing at Jimmy'z club in Monaco," a source tells me, adding that Adrien Brody also joined Paris Hilton on her megayacht.
And just last night, they were spotted canoodling at Club VIP in Cannes, where Karl Lagerfeld was throwing his Chanel party...
"They seemed very comfortable with each other," an eyewitness tells me. "They were both laughing and having what seemed to be a really funny conversation."
The Oscar winner seems smitten—he seems to have a thing for blondes since he was recently spotted getting cozy with January Jones—but it seems Paris isn't sure. "She thinks he's cool and supersweet, but she isn't interested in anything serious right now," a source close to Paris tells me. "She said they were friends and that's it."
In fact, the heiress seems much more excited about some earrings and a watch she received from a secret admirer and promptly tweeted about.
"The earrings are 1.8 million euros and the watch is 1.5 million euros," a source tells me. Must be nice!