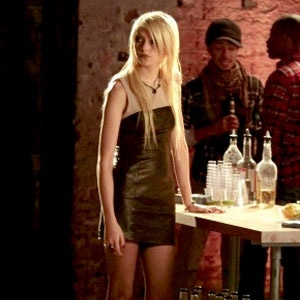 Giovanni Rufino/The CW
O.M.F.G. indeed.
We're still not really sure what to say about last night's jaw-dropping Gossip Girl finale, so we went straight to show runners Josh Schwartz and Stephanie Savage for a little clarification. You fans have been asking all day, is  ***** a goner?! Is ******** really preggers?! When will ***** and ******** be back on the show?! Spoiler Alert! Do not read on if you haven't watched the episode, 'cause the silly asterisks end right here!
Here's what Josh and Stephanie had to say:
Now that Chuck and Jenny have this out of their respective systems, you think they're both redeemable?
J.S.: Everybody is offered a second chance in life. If Chuck weren't to survive what happened in the finale, at least he went out in an act of nobility. Jenny's looking to get a second chance and to leave the city behind and start over. Hopefully both characters were offered an opportunity for redemption by the end of the episode.
S.S.: Redemption is a huge theme on the show, from the pilot. Is it possible for a person to change? What can be forgiven? Who can be redeemed? That's the thematic material of the show.
Can Blair forgive Chuck after this misstep?
J.S.: First, there's the question of what happened to Chuck at the end of this episode.
S.S.: Let's see if Chuck can recover from his bullet wound first.
J.S.: Blair can forgive Chuck in her heart—if he's no longer with us.
And is Chuck no longer with us?
J.S.: I'm just saying that would be a way to forgive Chuck, if he lost his life trying to protect the engagement ring he was going to offer to Blair. That's a pretty noble gesture that can erase a lot of wrongs.
Don't forget, you recently promised us that Chuck and Blair are always at the forefront of your storytelling.
J.S.: That's not a lie.
S.S.: That's totally true.
Humberto Carreno/startraksphoto.com
Now that Mercy has been cancelled, will we see more Michelle Trachtenberg—and is Georgina really preggers?
J.S.: Oh, she's pregnant. We love Michelle, and we're always looking for ways to bring her into the show each season.
Vanessa was MIA in the finale. Will Jessica Szhor be back next season?
S.S.: She will be back at some point.
What about Taylor Momsen? When is her leave of absence up?
S.S.: We have a plan, but we want to save it as a surprise.
Will Blair make good on her promise to destroy Little J if she comes back to the city?
J.S.: Blair doesn't make promises [she can't keep].
S.S.: We will do whatever will create maximum drama.
Ain't that the truth!
How ya feeling now about the Gossip Girl finale? Any condolences you'd like to send to Chuck Bass? Leave all questions, comments and concerns below.
________
And be sure to follow Kristin Dos Santos on Twitter for all the Upfronts updates you could ever want.