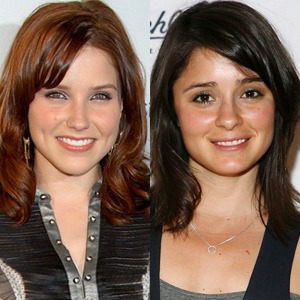 Gregg DeGuire/WireImage.com, John Lamparski/WireImage
Finally, some good news!
After months of on-the-bubble torture, The CW is officially bringing both One Tree Hill and Life Unexpected back for more. Talk about a sweet reprieve! The network also picked up two new shows, and based on what we're hearing, LUX and OTH might have a little more competition next season...
First, let us take a moment to honor the just-fallen Melrose Place, which The CW has officially axed. (Sorry if you were still holding out hope. We tried to warn ya!)
Helping to fill the void left by MP are two new shows on The CW's 2010-2011 lineup: Nikita, a revamped version of the cult classic La Femme Nikita which is supposed to be nothing short of totally kickass, and Hellcats, the Tom Welling produced extreme-cheerleading drama.
Something tells us these two won't have any trouble finding an audience, given that the casts are both unbelievably gorgeous and talented. Come on, Nikita's got action star Maggie Q, Shane West, Melinda Clarke and How I Met Your Mother's daughter herself, Lyndsy Fonseca. And Hellcats boasts Disney faves Aly Michalka and Ashley Tisdale. So, there's that factor to take into consideration.
No official word on what kind of episode orders OTH and LUX have received, but we're hearing they'll spilt the season down the middle with 13 each.
And while we're raving about all good things, let's give a big WWK shout out to Miss Liz Tigelaar for being both an awesome lady and creating Life Unexpected, one of the best new series' in years. Thanks for LUX—and wouldn't you know, she's excited about the renewal, too. Check out her cutesy tweet:  "Season 2 Baby!!!!!!! Yippppeeeee!"