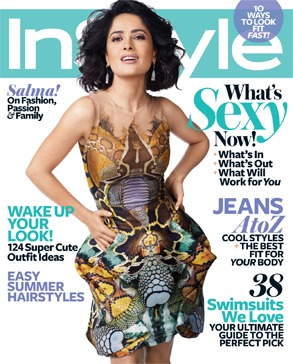 InStyle.com
Attention, world: Another actress has gone triple-barrel on us.
This time around, it's Salma Hayek who's pulled the old moniker switcheroo, opting to henceforth go by Salma Hayek Pinault.
Well, she did marry the guy twice. The least she could do is take his name. Although, it wasn't entirely her decision?
"It was Valentina's request," she told In Style, pointing the loving finger at her 2-year-old daughter with fashion mogul hubby François-Henri Pinault. "I didn't think about it until she brought it up.
"We were shooting a film, and she saw my chair with my name on it. She said, 'What does it say there?' And I said, 'Salma Hayek.' And she said, 'What about Pinault? Why not Pinault?' "
That was apparently all the urging she needed.
"I said to myself, 'This is who I am now. I'm starting a whole new life. I've never been happier. Why shouldn't I share it with the people who have been supporting me my whole career, who have been with me since the beginning?' "
Well, she's never looked better, so we're guessing the new name—and the new life—suits her just fine.