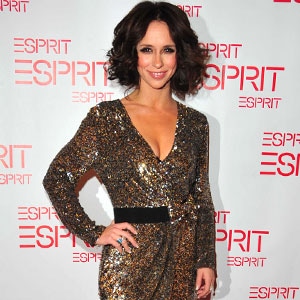 CHANCE YEH/PatrickMcMullan.com/Sipa Press
The hits just keep on coming.
My sources confirm reports that the following CBS shows have gotten the ax. For your consideration, I have put them in a list from most shocking to "yeah, knew that was happening":
Old Christine
Ghost Whisperer
Gary Unmarried
Accidentally on Purpose
Cold Case
Miami Medical
Numb3rs
Yikes. Talk about cleaning house. But here is your bright side: Rules of Engagement and Medium both got renewed. Also, there is still hope that Ghost and Christine might be picked up by ABC.
Poor Jennifer Love Hewitt. But there just might be a plan B for her. I talked to Greg Grunberg yesterday about becoming a series regular on the new NBC rom-com Love Bites. J.Love is guesting in the pilot episode as a free pass for Greg's character: She's on the list of celebrities he's allowed to sleep with. "I end up in a bathroom on a plane with Jennifer Love Hewitt," he tells me. "I can't tell you what happens, but it's very funny. She, by the way, is the greatest." Perhaps she'll be back on the show after the mile-high situation?
Love Bites is going to have a revolving door of  guest stars each week, so this slew of cancellations could mean grabbing up new characters. Who else should that show pick up from the depths of unemployment? CBS is not commenting on these updates, but we won't have to wait long. CBS upfronts are tomorrow, and I'll be there to feed you updates. Meanwhile, head to the comments and rant until the shock wears off.
________
Follow me all this week on Twitter and in this here blog for constant updates from the New York upfronts.