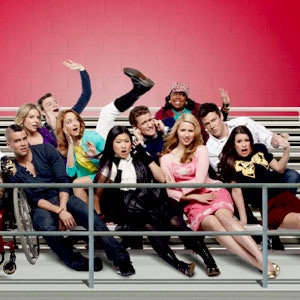 Patrick Ecclesine/FOX
They're ba-a-ack!
In far less surprising news than anything NBC dished yesterday, Fox announced their 2010-2011 schedule bright and early Monday morning, and, as expected, they're going for the gold with Glee. Those musical badasses not only secured a solid time slot, they also booked the 60 minutes all shows dream of—the hour following the Super Bowl.
So where did the Gleeks land in the lineup? Who's joining the luscious-locked lady formerly known as Felicity? Here's the dealio...
Jason Merritt/Getty Images
Notice lots of returning shows on that rundown? True, but Fox's midseason schedule is a bit more diverse and contains most of those pilot pickups you've been hearing about. And it includes a new spring time slot for good ol' Glee, the show that thrives in any television climate.
Here's the 2011 plan:
MONDAY
8-9 p.m.: House
9-10 p.m.: Lonestar (new)/Ride-Along (new)
TUESDAY
8-9:30 p.m.: American Idol Performance Show
9:30-10 p.m.: Running Wilde (new)/Mixed Signals (new)
WEDNESDAY
8-8:30 p.m.:  Raising Hope (new)
8:30-9 p.m.: American Idol Results Show
9-10 p.m.: Glee
THURSDAY
8-9 p.m.: Bones
9-10 p.m.: Fringe
FRIDAY
8-9 p.m.: Human Target
9-10 p.m.: Kitchen Nightmares
SUNDAY
7-7:30 p.m.: The Simpsons (encores)
7:30-8 p.m.: American Dad
8-8:30 p.m.: The Simpsons
8:30-9 p.m.: Bob's Burgers (new)
9-9:30 p.m.: Family Guy
9:30-10 p.m.: The Cleveland Show
Jean-Paul Aussenard/Getty Images
Just in case you've missed the previous announcements, here's a rundown of Fox's new series:
Raising Hope: Wacky comedy about a wacky family with a new addition on the way. My Name is Earl show runner Greg Garcia is at the helm on this one. And the guest cast includes Cloris Leachman and Bijou Phillips.
Running Wilde: From Will Arnett and the brilliant guys behind Arrested Development comes this romantic comedy about a wealthy playboy attempting to woo his childhood sweetheart, played by Keri, once more—told through the eyes of his former housekeeper's 12-year old daughter.
Lonestar: Sexy sudser from the people who brought you Party of Five (paging soon-to-be-jobless, Matthew Fox!) and the man responsible for emo-hit 500 Days of Summer. Also, it stars Friday Night Lights' Adrianne Palicki, yay! Cast includes James Wolk, Eloise Mumford, David Keith, Mark Deklin, Bryce Johnson and Jon Voight.
Ride-Along: Gritty new cop drama with a gorgeous cast from The Shield's Shawn Ryan. Starring Jason Clarke as Jarek Wysocki, Jennifer Beals, Matt Lauria, Devin Kelley, Todd Williams, Billy Lush and Delroy Lindo.

Bob's Burgers: The title of Fox's newest animated series pretty much sums it up.
Mixed Signals: "Three longtime friends trying to reconcile the irreconcilable." Oh, and they're all very, very good looking. Seriously, here's the cast: Alexandra Breckenridge, David Denman, Nelson Franklin, Liza Lapira and Kris Marshall.