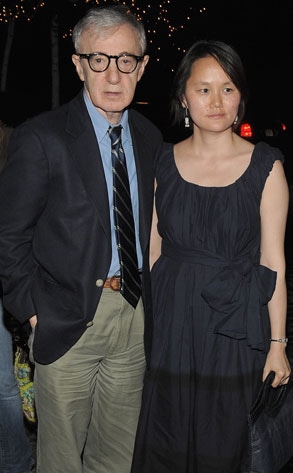 Jamie McCarthy/WireImage.com
Forget Hannah and Her Sisters. It's more like Roman and His Defenders.
Cannes was abuzz this weekend after Woody Allen stood by fellow Oscar-winning filmmaker Roman Polanski when it came to Polanski's 33-year-old child-sex scandal.
"It's something that happened many years ago... he has suffered, he has not been allowed to go to the United States. He was embarrassed by the whole thing," Allen, 74, said during an interview with a French radio station while making a promo stop at the film festival. "He has paid his dues, he has had a hard life. The girl involved doesn't want anything to happen to him."
If only there was just one accuser. And if only if Allen didn't have a checkered past of his own...
Polanski's remains under house arrest in Switzerland facing possible extradition to the United States. The Polish-born director fled his adopted homeland in 1978 to avoid sentencing after pleading guilty to engaging in unlawful sex with a 13-year-old girl.
In a recent statement, Polanski claimed his current request for extradition "is founded on a lie." That statement was released before actress Charlotte Lewis went public last week to claim that Polanski abused her in 1982 when she was 16.
For his part, Allen portrayed the hubbub around Polanski as akin to a witch hunt.
"He's an artist, he's a nice person, he did something wrong and he paid for it. [The critics] are not happy unless he pays the rest of his life. They would be happy if they could execute him in a firing squad," said Allen.
No stranger to public outrage himself, Allen made headlines of his own when he left longtime partner Mia Farrow for Farrow's adopted daughter, Soon-Yi Previn, whom he later married.
Not sure that Woody is the first person we'd want defending us under similar circumstances, but we're guessing Polanski doesn't mind the support.
"There are a million people out there in the United States, robbing banks...shooting people and selling narcotics. And they're going after a 75-, 77-year-old man who has for years has caused no trouble, who's lived a good life," Allen added. "I feel they are wasting a lot of money to do this and it is not necessary...it is self-aggrandising and it's money foolishly spent."
Concluded Allen: "They should take the money they spent on the Polanski case and go after drug dealers and rapists. Polanski...did something and he has been penalized for it. Enough is enough."
________
Follow all the hottest Cannes action on Twitter and check out the Buzz Films in our festival gallery.