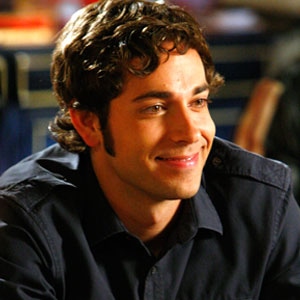 Trae Patton/NBC
Score one Team Bartowski!
You may have heard the rumors, and they are true: NBC's Chuck has escaped cancellation, picking up another 13-episode order for the coming TV season.
But what about your other TV faves: Life Unexpected, One Tree Hill and FlashFoward? Here's what I'm hearing...
FlashForward, unfortunately, is no more according to ABC sources. A shame because Sonya Walger was just telling me hours ago that she had a secret plan to save it: "I want to get Ian [Henry Ian Cusick] on our show so Penny and Desmond can live on."
Now can we get a new season, ABC? I mean really, how can you resist letting Lost's quintessential love story live on? What are you, dead inside?
V, on the other hand, is alive and kicking and will be back for a second season. At least ABC is rewarding one of our Lost loves Elizabeth Mitchell with additional eps. And there's more Shonda Rhimes love going around, too, because the alphabet net just announced the pickup of her new series, Off the Map.
As for those CW fan faves, I'm still hearing from reliable insiders that it's likely Life Unexpected and One Tree Hill will get shortened season pickups for fall, with 12 or 13 episodes apiece; however, no final decisions have been made. You know what that means: Make your voices heard in the comments below. It certainly can't hurt at this 11th and crucial hour.
The CW will announce its new fall schedule next Thursday in New York. Sources also tell me the CW's new spy drama Nikita (from McG) is amazing and is definitely a go.
In addition to Chuck's re-up, NBC is doing some serious spring cleaning, announcing the cancellations of Law & Order, Mercy and Trauma. Onetime fave Heroes is still very much on the bubble, and with NBC's pickup of new superhero drama, The Cape, things aren't looking good, sorry guys. Law & Order: SVU will be back for more, and the anticipated Law & Order: Los Angeles will fill the void left by the original flavor.
Meanwhile, Chuck fans, you'd better not let Zachary Levi down now! Looks like he's the newest Betty White on Facebook—fans are trying to get him a gig hosting Saturday Night Live. Cruise by right here and show your support, 'K?
The good news for Chuck fans is that the series could end up getting more episodes added to that 13-episode order, as it did last year. And a little bad news? The always lovely Ali Adler is vacating her executive producing seat at the spy dramedy for a spot on ABC's No Ordinary Family.
Tweets Ali: "Decision 2 leave chuck family for NoOrdinaryFamily was a tuff 1. Love @joshschwartz76 + evry1 I worked w & all amzg fans. Long live Chuck!" We love you back, girlfriend.