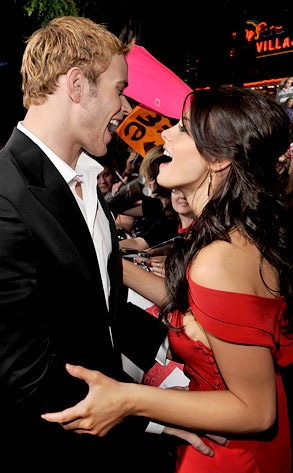 Lester Cohen/Getty Images
Starry-eyed, vampire-loving romantics aren't the only ones jealous of Bella and Edward right now.
Summit Entertainment is primed to split the final Twilight Saga installment, Breaking Dawn, into two films: Author Stephenie Meyer has signed off; Bill Condon's onboard to direct two; and Robert Pattinson is ready to roll, as are Kristen Stewart and Taylor Lautner.
So what's the holdup on declaring Breaking Dawn a twofer?
According to the Hollywood Reporter, it's some of the so-called secondary and lesser-paid stars of the series, particularly Kellan Lutz and Ashley Greene, who have not agreed to Summit's terms and are demanding more money for their pale-faced efforts.
A source told the trade that the offers the actors received for the proposed fifth film were "offensive" in comparison with how much dough the franchise has earned. Another insider says, meanwhile, that Summit might be willing to cut ties with at least one of them to "make a point."
Now, fans have already been forced to accept a midsaga cast change: Bryce Dallas Howard replaces Rachelle Lefevre as the murderous Victoria in the upcoming Eclipse.
But there might be a mutiny if the Cullen clan is replaced with newcomers!
________
With Eclipse upon us, magazine covers once again belong to the Twilight Saga stars. Check 'em out in our gallery.