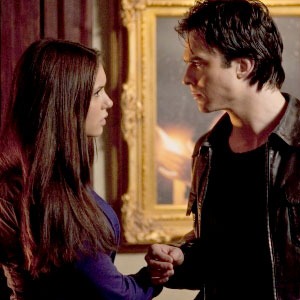 BOB MAHONEY/THE CW
Holy spit swap!
It's season finale time and you know what that means...Love Sex is in the air on some of the hottest TV shows for the next two weeks. And who's doing the smooching may shock you.
So what's the latest tonsil-hockey twist on Gossip Girl, The Vampire Diaries, Grey's Anatomy? Read on for the latest exclusive TV scoop...
Heather in Rhode Island: What's the latest on FlashForward?
Sad news. Despite earlier indication that the series might get a surprise renewal because it's doing well internationally, I'm now told by a well-placed ABC insider that FlashFoward's chances are "less than 50-50," due to ratings in the past week or two. If you love this show, make sure you tune in for the final episodes. (Mild spoiler alert) I'm hearing that the final two episodes both take place on April 29, the day of the blackout, and they're not to be missed. We'll learn the final verdict on FlashForward's fate—along with all the other network series—next week during the Upfronts in NYC. (Monday is NBC and Fox, Tuesday is ABC, Wednesday is CBS and Thursday is the CW.) Good times.
Julian in Helena, Mont.: Any word on whether we'll see Fred Willard back on Modern Family?
That's the plan, Ty Burrell tells us—and can we just say heck to yee-uh?! "From the beginning I felt he was the perfect extension of Phil Dunphy. And I can't imagine we won't see him again," he says. "We were discussing at the end of Fred's episode how to make that happen. We've got to make it a little easier than his cross-country trip!" Might we suggest adding on a room for daddy dearest at the Dunphy digs?
Quoc in Ramona, Calif.: I'll take Castle for $2000, Kristin.
Ahhh, the ol' Jeopardy setup...nice. It's not much, but odds are if you love Castle, you love real-life mystery novels, too, so get ready for a rousing game of poker between Richard Castle and his "cohorts" Stephen J. Cannell, Michael Connelly and James Patterson.
Wendell: Any scoop on Lost?
Just that I really want to watch the finale with some of you fellow fans here in L.A. Anyone interested? Anyone? Anyone? Bueller? Details to come...
Tim in West Hills, Calif.: Chuck's about to wrap, right? What's ahead?
Chuck is going to do everything in his power to protect his pop from his newly officiated spy life when Scott Bakula returns in a few weeks. Obviously, this does not go as planned.
Gracie in Georgia: Any more scoop on Mad Men's return?
Our lovely pal Alison Brie is on summer vacay from Community and prepping for her return as Trudy. "I've been working on Mad Men," she tells us. "I have seen some pages. I've seen some pages, and yet I have no idea what's gonna happen on the show, but it's exciting that it's back. It's the best summer job ever!"
Monica in New Jersey: I heard there were eight cliffhangers in The Vampire Diaries season finale. How is that possible?!
It's possible when you move the plot forward as quickly as the divine Kevin Williamson and Julie Plec! Yes, there will be a lot of surprises, and a source just revealed three of them to me:
A murder
A car accident
A hot kiss!
Let the guessing begin...And try to control your excitement. Just try.
Quincy in New York: I'm devastated at the rumor that ***** and ***** will hook up on Gossip Girl! Please say it isn't so!
I can't. Sorry. Sources confirm that a certain someone will be doing a certain something and it will cause some serious heartbreak. And that might not be the only hookup shocker! I'm told that "A Gossip Girl blast goes out about Dan and Serena that will not make Vanessa or Nate happy." I honestly don't know what that blast is about, but suffice to say, the finale is going to have lots of romantic upheaval, so buckle up. Oh, and the good news? I'm hearing that at least one core G.G. couple will end up happy at the end of the season. So say your prayers for your fave now!
Georgina: Please tell me Callie and Arizona get back together?
Not this week, but there will be a hilarious threesome proposition to keep you entertained. It involves steam, and you're gonna LOL. I'm hearing very good things about this week's episode.
Drew: What can you tell us about Cristina and Owen?
Rocky week for them this week! No breakup, but wear your protective soles.
Pam in Burbank: Please give us something on the Private Practice finale this week.
It's going to take the entire Oceanside crew to treat Maya and her baby after that terrifying car crash. And while both are definitely considered chopping-block material, neither is the big death that's been teased for weeks. Sadly, that too happens by the end of the finale.
Guy in San Francisco: What's coming up on Brothers & Sisters?
Newlyweds, schmewlyweds. Poor Justin and Rebecca just can't find the happiness they both clearly deserve—and deserve together!—resulting in an all-too-early trial separation.
Bridgette in Boise: Parenthood is hands down the greatest thing on television. I'll take spoilers, teases or just a brief moment to honor its greatness.
As we totally agree with your take on Parenthood, let us bow our heads for a moment to honor its greatness. Now, onto the good stuff. Get ready for a Braverman brawl—because the tension between Hattie and Amber will get too bad, and the family will divide for a bit.
What can you tell us about tomorrow night's crazy episode?
Yep, it's the one with no series regulars. Hmmm...what can I say? You will be wondering what you wondered about Sex and the City's Mr. Big after it, 'cause as far as I can tell one of the two main characters does not have a name. Also, Allison Janney is chockfull of wisdom about light, darkness, life, rebirth and such, so pay attention and take notes!
Diana in Denver: Are things going to come to a head on V by finale time?
By the season's end, Erica will change her methods of attack and inflitrate Anna's mothership in order to take down the V's from the inside, out. And get ready for a bubbly little alien baby, because Val's thisclose to going into labor.
Reina in Tallahassee, Fla.: Am I the only one who thinks Cougar Town has gotten better and better as the season progresses?
I'm right there with ya, sister! Cougar Town is always climbing my list of comedy faves. And the final two episodes of this season prove your point. If you're a Jules-Grayson shipper, get ready for loads of nonfriends with benefits lovin'. It's still a secret...just not from Ellie. Oh, and guess which best frenemies are going to get all cutesy and caring this week? Hint: One half is Laurie.
Alex in Burlington, Vt.: Season finale time makes me crazy with all this death talk! Please ease my mind with some fluffy scoop on my favorite comedy, Modern Family.
The season finale of Modern Family won't be easy for anyone on that show either. I mean, how could it when it involves Kobe Bryant, a pigeon, mud fights and a frantic Claire (Julie Bowen) trying to take the perfect family portrait? Plus, that damn broken step! But trust, the way the episode wraps up is sweeter than sweet.
Hugh in New York City: What's the word on Adam Scott and Rob Lowe heading to Parks and Recreation? It starts this week, right?
The guys pop up in Pawnee this Thursday, and both performances more than exceed expectations—especially Ron Swanson's. "Adam and Rob's characters show up from the state government. They've come to slash our budget, so a lot of tumult occurs in the department," Nick Offerman explains. "Ron Swanson is over the moon that the budget is being slashed, it's his dream scenario." Of course, it's not Leslie's Knope's, and she will fight it.
Brady in Nebraska: I want Tom to get some loving on Parks and Recreation. Any hope?
Yes, yes, yes! Aziz Ansari's Tom is finally getting a serious ladylove, and we'll actually meet her this week. "Tom gets a girlfriend named Lucy," Aziz just told us. "And we see this relationship and what Tom is like when he has a girlfriend. It's for a few episodes." Lucy just so happens to be a classy, sassy bartender at Tom's stomping grounds, the Snake Hole.
Johnny in Los Angeles: Community finale talk, stat!
Lucky for us Community-minded folk, there's not one, but two finales, show runner Dan Harmon tells us. "There's the cramming academic finale, and then there's the more emotional prom-y, finale. Not to say it's not funny!" he assures. One of the biggest shockers on the way? Senor Chang isn't legally a teacher—for reals! In fact, they bring in a replacement for his wacky intro to Spanish course..
Gabby in Cincinnati: I'm so mad at The Office for making Michael "the other woman"! What happens now?
What do you do when you find out you're the mistress in your relationship? If you're Michael Scott, deny, deny, of course. At least that's the case now that he knows he's the secret love in Donna's life. Poor Mike, indeed.
Remy in Tucson: I know the season finale of House revolves around a huge disaster, but please tell me we see some House-Cuddy action in the episode as well!
The term "lay it all out on the table" is probably what I would use to describe the House-Cuddy moments in the season finale of House. Dr. Cuddy (Lisa Edelstein) gets all up in House's grill, and not in the way "Huddy" fans would hope. Needless to say, the intense confrontation plus the chaos and consequences of the disaster equals a broken, vulnerable House, played to perfection by the always brilliant Hugh Laurie. If you thought you saw all the sides of our favorite cranky doctor, you be wrong.
Auden in Tampa: Forget about Huddy for a moment. What about the rest of the docs on House? What's in store for them in the season finale?
How about some scoop on the Princeton-Plainsboro gang? Actually, the one complaint I have about the episode is not enough Dr. Wilson! It is indeed the House-Cuddy show in the season finale. But we do get to see developments with the tragic storyline of beautiful Thirteen. Developments, I say. Not a resolution.
Bradley in Dallas: So excited Friday Night Lights is finally airing on NBC! What's coming up this week?
Rejoice FNL fans! Those without DirecTV are now diving into the fourth season, which finds Dillon divided between East and West. This week, Tami (Connie Britton) finds herself right smack in the middle of a huge controversy when she realizes one of the Panther's star players is not even supposed to be a Panther. And those running the football show at West Dillon knew all along. Of course, the very school Tami runs sees her decision to force the player to change teams as an act against the beloved Panthers. Which as you know, is blasphemy in that town.
Katelyn in Oahu: 90210 details are seriously needed.
Liam finally sets sail in his boat, but sadly, it's not a happy ending. And remember that crazy-horrible-mind-blowing thing we've teased happens to Naomi? It's right around the corner and involves an action that's both physical and devastating.
Chris in Schererville, Ind.: I've got True Blood fever. Can you help me?
All right, try not to pass out or anything, but I've got it on good authority that True Blood is getting ready to delve into the fairy world! Fans of the novels know this storyline well, but for those of us who happen to be literature-challenged, this could mean big things for Sookie—depending on how closely Alan Ball chooses to follow the books.
Kate in Kansas City, Mo.: Loving this season of Nurse Jackie! Got anything?
Things are about to get really messy for Jackie when Dr. Cooper sets up Eddie (Paul Schulze) with one his gal-pals. Wouldn't it be totally awkward for Jackie to be in the same room with that new couple? Don't worry, we get to see the awkwardness. And I think it's best described by Dr. O'Hara (Eve Best) when she calls Eddie "absolutely mad".
Missy in Georgia: United States of Tara is definitely on it's A-game. Teases please?
Loads of sexytime is about to rock United States of Tara—and none of it does any good. Here's what we can say: One of Tara's alters will seduce Max with her approval, and that's only after Max has cheated of his wife with a woman we've met before. Tangled web, tubers. Tangled web.
Elisa in Santa Fe: Teasers for the How I Met Your Mother finale?
While Lily and Marshall debate the doppelgänger-baby issue in the episode, Ted does something stupid and impulsive. No, it's not a marriage proposal. Or professing his undying love on a first date. It's much, much worse. He...becomes a blond! Gasp! And the new 'do plays a pretty big part in a pivotal scene at the end of the episode. See how much power blondes can have?
Boyd in Toronto: Big Bang Theory, please!
The always fun Sarah Gilbert will be back for the Big Bang Theory finale. Might she be a Penny rebound for Leonard?
Liz in Chicago: The Good Wife please!
Paige Turco from Damages will be guest starring as Alicia's client in an intense divorce case, but what's most important in this week's episode is we finally get a winner in the Alicia-Cary competition. Hint: One of those two people come out on top. You are welcome.
—Additional reporting by Megan Masters and Jenna Mullins