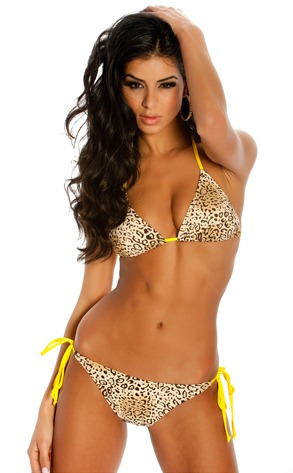 Courtesy of Darren Decker for Miss USA 2010
It seems some folks are getting their panties in a twist over a bunch of photos showing this year's Miss USA contestants wearing not much more than...their bra and panties.
Take Rima Fakih, aka Miss Michigan. She, like all the ladies who will be strutting their stuff during the May 16 pageant in Las Vegas, posed provocatively for her promo pics.
But for every complaint the organization has reportedly received, it seems there's just as many who are willing to defend the decision…
Not suprisingly, Donald Trump, owner of the Miss USA franchise and never one to shy away from controversy, shared his thoughts during Ryan Seacrest's radio show this morning.
"I think they've gone maybe a little over the top this year. These pictures are pretty wild," said The Donald, before slyly adding: "But the girls are incredible."
As for the Miss USA organizers themselves? "We are in the business of beauty, and the contestants who compete for the title of Miss USA are not afraid to be sexy," Lark-Marie Anton from the Miss Universe Organization (which also runs Miss USA) tells E! News. "These ladies are the full package—smart, accomplished, relevant and sexy!"
Miss USA Provocative Pics Poll