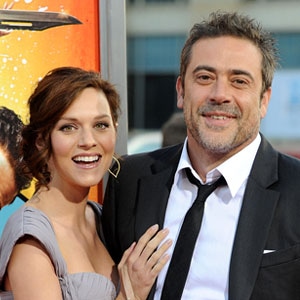 Jason Merritt/Getty Images
Well...huh. You don't say.
Just two weeks after going public with their romance, it's been revealed that Jeffrey Dean Morgan and One Tree Hill's Hilarie Burton have also welcomed a baby boy, a source close to the couple confirms to E! News.
That's got to be a record, right? We don't even think TomKat moved that fast...
The amazingly secret couple only made their red carpet debut on April 20 in support of Morgan's The Losers, and now comes word that they have not only been together for more than a year, but that they've also become parents.
Us Weekly was first to report that the limelight-shunning couple welcomed the child "a few months ago," though no name or exact birth date has been announced. Calls to their reps were not immediately returned Thursday.
The 44-year-old Supernatural vet and the 27-year-old Burton reportedly began dating in early 2009, shortly after Burton split from OTH assistant director Ian Prange. She peaced out of the CW show the same year and had not been seen publicly since, up until last month's outing.
Now we know why.
"She told friends about her pregnancy back in August after she had spent a lot of time with Jeffrey on location in New Mexico," where he was filming The Resident with Hillary Swank, a source says.
It's her first child, and Morgan's second. Congrats, you sneaky duo!
(Originally published May 6, 2010, at 1:42 p.m. PT)