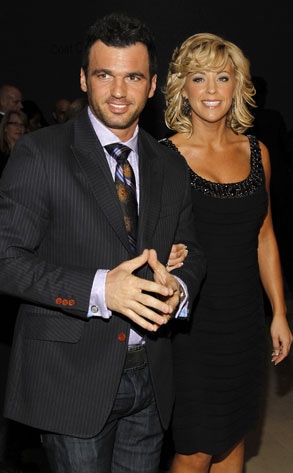 Mark Von Holden/Getty Images
Reports may have claimed Tony Dovolani couldn't wait "to get rid of" Kate Gosselin, but the Dancing With the Stars pro says he and the reality-TV mom have actually kept in touch.
"We talk a couple of times a week," Dovolani told us yesterday at the Ann and George Lopez Foundation's Celebrity Golf Classic & 2010 Audi Quattro Cup at the Lakeside Golf Club in L.A.'s Toluca Lake. "Kate misses her Dancing With the Stars family. In fact, she misses dancing altogether. That, to me, is music to my ears."
Also music to the sexy 36-year-old's ears? The idea of bringing his family together with Ms. Gosselin's...
"Our kids will probably have some playdates soon," Dovolani said. "I absolutely think that would be fun. People love talking about kids, so we always have a good conversation that way."
It probably doesn't hurt that Dovolani's wife, Lina, is looking forward to hanging out with the mom of eight as well: "My wife is a big enthusiast of Kate's show, so, yeah, it'd definitely be great to get the families together."
Gosselin blogged today that she had a "wave of sadness" come over her recently when she took a look at her discarded dancing shoes in her basement.
"Without a doubt, Dancing With the Stars was a life-changing experience," she posted. "I learned many valuable lessons and many things about myself. I had the opportunity to meet an amazing group of people—many of whom I'll remain friends with long beyond our days of dance."
And yes, Ms. Kate will be back for the season finale. "I think there better be one more dance left in me," she wrote before ending with, "C'mon, I know you missed my unique dance style!"
 —Additional reporting by Ashley Fultz
Follow Marc Malkin on Facebook.
________
Kate Gosselin has twins, and so does Tony Dovolani. See more in our Celeb Trend: Twins! photo gallery.