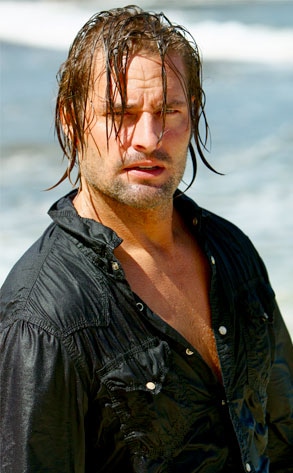 Mario Perez/ABC
Holy death march!
Or, make that death May. (Ba-dum-bump. See what I did there?)
I'm hearing of some big deaths on some of your favorite shows coming this month as the season wraps up—a few of which will tear your heart out. Wanna know which shows will totally slay you with character slayings?
Read on for that and the scoop on Grey's Anatomy's season finale, Lost, The Vampire Diaries and more...
Bruno: I'm concerned for FlashForward. Will it survive? The ratings are not great right?
Right. But I'm actually hearing that FlashForward could end up squeaking by to a second season because it does well overseas, and ABC wants to see if the Lost audience will tune in more next season when we're missing Locke, Jack and the gang. Thoughts? Would you?
Grady in Oklahoma City, Okla.: I'd love some Burn Notice scoop if you're offering.
Don't run with this just yet, but White Collar's Matt Bomer just told us he and Burn Notice's Jeffrey Donovan are pitching a crossover episode to USA. How capital Ah-mazing is that?! "I love Burn Notice. It's smart, it's fun, it's action-packed," Matt said. "I would love to do a crossover. Jeffrey and I actually talked about that; it'd be amazing if we get to do that some day!"
Munawar Hosain/Fotos International/Getty Images
Amanda in San Diego: Has there been any word on whether or not Jonathan Groff will become a regular on Glee?
Jesse St. James is a graduating senior. But there is hope! "I love his character. We loved [Jonathan]," Ryan Murphy tells me. "He and Lea Michele have such great chemistry. I'm sure we'll have him back." Ryan and fellow executive producer Ian Brennan were even kind enough to start drafting ideas right in front of me: "He'd be one of those freshman in college who dates a high school girl," mused Ian. Ryan teased, "Maybe he doesn't do so well in college and comes back to get his glory. We're writing the script right now!"
Robyn from Pittsburgh: You're killing us with no Lost scoop this past week. No episode, no scoop. Throw us a small tease or something, anything, please!
I felt lost too. What will we do come June? OK, scoop you may or may not know: This week's episode is most definitely a game changer, and there will be at least one major death. Quite honestly, I'm expecting to cry harder watching this episode than I ever have watching this show. So bring out that industrial-sized Kleenex box, my friends. Also, we'll see the Man in Black's (Terry O'Quinn) true colors. And surprise, they aren't all rainbow-y. This episode and the episode that follows will most definitely have everyone talking. Next Tuesday, episode 15, is the one with no series regulars that also guest stars Allison Janney, and it has a very cool Aha! moment that will make you realize show runners Damon and Carlton did know where they were going from the very beginning. Can you believe the show is really all about alien polar bear ninjas? I know! Me neither! (Tee hee.)
Randall in New York: I hate to ask, but is there anything good coming up for Kate and Sawyer? I hate to ask 'cause I fear the answer.
I don't know much, but I do know they'll end up back in those cages. But not with the same boom-chicka-bow-wow outcome you may be hoping for. Sorry. Honestly, there's so much going on as far as life-and-death shockers and the mythology of the series that from what I know, there isn't a whole lot of relationship focus in the next couple of episodes. That said, you will see Kate show some emotion this week.
Callie in Baltimore: How about some hints on the OMG moments in the season finale of The Vampire Diaries? Are they really OMG?
I can tell you that the biggest of them all is more OMFG, and it's a double death. One a younger actor. One an older actor. Both will be off the show for good.
Gia in Golden, Colo.: I can't wait till this week's Vampire Diaries, but I was wondering if the deaths of Pearl and Harper were the two you were speaking of in a previous Spoiler Chat?
They were. But two more will go also.
Francine in Washington, D.C.: Brothers & Sisters, spill it! What's this big shocker in the finale?
It involves nearly every single major character in the Walker family, and one of them will die. Luke Grimes (Ryan) is leaving the show, but it's not him.
Frazer Harrison/Getty Images
Tessa in New Orleans: No one is going to die on Grey's Anatomy, right?
No deaths among the cast that I know of, but there is a death very soon that will affect Cristina and bring back some painful memories. It's a fantastic episode for Sandra Oh actually. Her character definitely has some strong material in the coming weeks that could win her that overdue Emmy.
Drew: Thanks for all the juicy Grey's couples scoop! Who is it that drops the M (marriage) bomb?
The marriage-related word that is dropped is actually an H-bomb: "Husband." And that's all I can say!
Pete in Ipswich, Mass.: Did Kevin McKidd say anything about the season finale?
I asked KMK if it's true that what happens is "unlike anything Seattle Grace has seen before" (per ABC), and he said, "Whatever it is that happens, Owen has a take on it that is interesting, connected and linked to his past life. In the finale, he's busy for a lot of it, but it comes up to speed quickly, and he makes some more snap decisions than other people are able to." Clearly, whatever goes down is big enough that he doesn't want to give much away. Big? On a Grey's finale? I know, bonkers!
Jackie in Portland, Ore.: Any word on if Dana Delany will be back on Desperate Housewives before the season ends?
Yes ma'am, and that word is no! Dana tells us Katherine is happy in Paris with her girlfriend for the time being.
Humberto Carreno/startraksphoto.com
Laura in Rolling Hills, Calif.: What can you tell us about Georgina's return to Gossip Girl?
It's surprisingly good, and it involves Dan (Penn Badgley).
Genevieve in Denver: William isn't going to ruin Rufus and Lily forever on Gossip Girl, is he?
Don't let the promos fool you. Billy Baldwin's Will van der Woodsen is not all bad—emphasis on the word all. "What's already going on between Rufus and Lily is what poses some interesting conflicts for everybody," Billy tells us. "On the outside, Will wants to have his family back, and he wants to have a nuclear, biological family healthy again. That doesn't necessarily mean he wants to destroy. He wants to have that and still respect the boundaries between Rufus and Lily." Hah! We'll believe it when we see it.
Nick in Calabasas, Calif.: Hey, Kristin, just wondering, any new Chuck scoop for Monday's episode?
I can tell you that there is a surprise comeback very soon that will leave your jaw unhinged! A very good-looking comeback, I might add.
Boyd in Australia: I'm pretty obsessed with Kenneth on 30 Rock. Does he have any cool stuff coming up?
Jack McBrayer has this to say about this Thursday's Mother's Day episode: "It's pretty much business as usual for Kenneth with the always mishaps. [But] all of the moms we've introduced come on in one fell swoop, and I got to be a mommy wrangler. It is a challenge." For the record, I'd love nothing more than to be wrangled by Kenneth someday. We all have our dreams.
Michael Buckner/Getty Images for Fox
Gracie in West Virginia: All we've gotten from Team Artina on Glee is a measly kiss. There's got to be more ahead, right?
We're feeling a little Gleeful today, so here's some Artina scoop to tide you over. Yes, there is much more lovin' for the cuties in the next few episodes, but as usual with this show, bring along a hanky. This time around, it's "a bit more advanced, a little bit more emotional than just 'I like you, you like me, let's work this out,'" Kevin McHale just told us. "We get more into seeing each other as real people and as boyfriend and girlfriend." Added Jenna Ushkowitz: "There's a lot more substance coming. Artie has a struggle with his disability, and Tina wants to help him with that. She just wants him to be happy, so you definitely see some crying—and then some smiling." Don't worry, she promised us some big smiles!
Brandon in Austin, Texas: This week's Community looks amazing! Do tell?
If you guys happen to love Danny Pudi as much as we do—that's a trick question; everyone does—this week's much-hyped "Modern Warfare" will not disappoint. Abed is so super kickass, flying off walls and taking out every Greendale college kid one paintball at a time...You're bound to fall for the character all over again.   
Dan in Vermont: Parenthood, please.
Some good stuff ahead. With Zeek's terrible money troubles out in the open, he'll be shipped out on his own, allowing Camille to take some much-needed time for herself. And sweet little Julia is going to help ol' pops out of his financial woes, too.
Rebecca: Any word on Mad Men?
They're finally going back into production in July—slackers! I kid, but I want my Don Draper! Elisabeth Moss said there are a lot of changes that open up "a whole new world." Oooh! I hope Ariel will be there. (Sorry.)
Nate in Boston: Please tell us you know some scoop about the 24 finale!
We have it on good authority that Jack Bauer will actually get a happy ending...whatever that means in the land of 24.
Wendy in Rhode Island: What's next on Modern Family?
Ty Burrell tells us that the season finale will be Claire trying to get the family together for a new family portrait. I smell new opening credits for next season! And they smell delicious.
Patricia in Visalia, Calif.: Now that Jules and Grayson have hooked up on Cougar Town, what's next?
Friends with benefits, duh! Well, that'll be the idea, but it's not going to fly for a few reasons. One being ex-hubby and white-trash extraordinaire, Bobby.
—Additional reporting by Megan Masters
________
Follow me on Twitter!