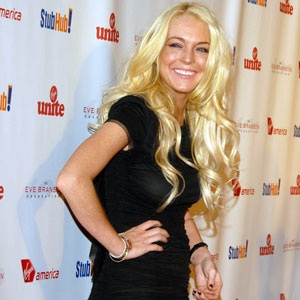 Mark Sullivan/Getty Images
Lindsay Lohan may have recently been canned from a movie, but that doesn't mean she's not getting other work.
Last month, Lohan was reported to have signed on to upcoming indie flick Inferno to play Linda Lovelace, the late porn star most famous for the 1972 hard-core movie Deep Throat. Well, her photographer pal Tyler Shields confirmed to us this weekend that the actress has indeed landed the gig. Shields says he's talked to the movie's director, Matthew Wilder, about Lohan's role...
"[Wilder] contacted me and asked me if I would do the promos for the movie," Shields told us Saturday night at the opening of "Collisions," his new exhibition at Gallery 1018 in downtown L.A.
Wilder and his producers plan to officially announce Inferno later this month at the Cannes Film Festival, according to Gossip Cop. For a time after Lovelace left the adult movie business, she became an antipornography activist. She died in 2002 at the age of 53 from injuries she suffered in a car accident.
We can only imagine what Lohan-as-a-porn-star will look like in a Shields photo. Just last week, the two caused quite a stir when Shields released eye-popping pics he shot of a barely dressed LiLo brandishing a gun and covered in blood for his upcoming book The Dirty Side of Glamor.
"The photos I have not released will top anything you've seen before," Shields said. "Let's just say they're what you've seen maybe times 10, maybe times 100."