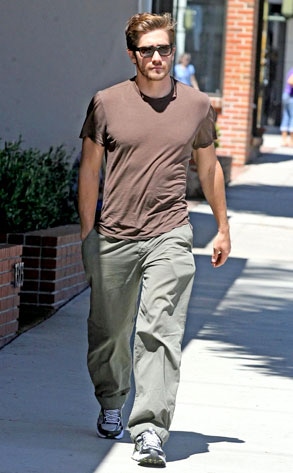 Bret Thompsett/ Pedro Andrade, PacificCoastNews.com
Hottie Jake Gyllenhaal sure does know how to stir it up on the Montreal set of his latest flick, Source Code. But guess what he's pullin' now? Apparently, stuff to make your eyes either roll—or bulge—in utter delight. Not sure how this one will hit ya.
Seems like one vintage pair of exes can be still be sexy friends:
Dome, Thompsett, PacificCoastNews.com
We hear Kiki was in town visiting Jakey!
Yep, the two former lovebirds, Gyllenhaal and Kirsten Dunst, were spotted hanging out again, thanks to their synchronizing work schedules.
Sorry, but we find this to be terribly good news. See, before those mundane coffee dates with Reese Witherspoon, Jake was all about lovey-dovey lunches at Joan's on Third with Kiki. Everybody knows it was hardly just a latte affair.
But don't get too excited just yet: We're told things hardly heated up in Canada, just that the two exes were hanging together. Still think it's supersweet.
Jake has been up in Montreal filming Source Code where Dunst was in town, prior to heading to the Tribeca Film Festival, where we must say, she's been looking fab.
Sources tell us Jake and Kirsten casually ran into each other a few times while they were out, and then possibly made it a more purposeful bump-in later on.
They seem to be on totally good terms. Unlike J & Reese.