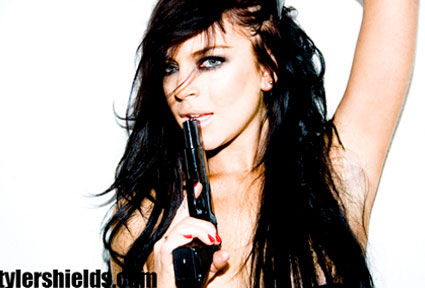 tylershields.com
"It's not softcore porn, hunny, it's called ART."
That's how Lindsay Lohan describes her recent photo shoot where she's covered in blood and a bra, holding a gun to her head.
It's certainly not something her dad would like, and the rest of the Twitterverse isn't too happy about the pics, either. People are calling them crazy, perverse and even a cry for help.
But they really are meant to be art, photographer Tyler Shields tells E! News exclusively.
"To me, it's not that big a deal, but I can understand that it's a big deal to other people," he says. "She's participating in an artistic adventure. This is not just her running around on the streets with a gun."
Get a load of  more decidedly less suitable for work images after the jump.
His project is a book called The Dirty Side of Glamor, which Shields describes as "people doing crazy things in a crazy way" and compares the shoots to filming scenes in a movie.
More importantly, it was Lohan who contacted him about participating and, while Shields conceptualized the shoot itself, she knew the kind of macabre things would be in store.
"She wanted to be a part of what I was doing," he says. "When someone comes to me and they've already seen my work and already know what it is, nine times out of 10, they knew what they're getting into and they know what they're going to be a part of and they want to do it."
Shields says Lohan was gung-ho for the duration of the experience—before, during and after the camera started snapping.
"There was not any diva behavior at all to me," he claims. "But also she wanted to be a part of what I was doing and I'm sure that makes a difference."
We're just happy she's not dressed—or undressed, for that matter—as Marilyn Monroe again.
(Originally published April 29, 2010, at 2:35 p.m. PT)
Follow us on Facebook and Twitter.
________
Does Lindsay look better in these dark and twisty photos or in her Fashion Spotlight gallery?