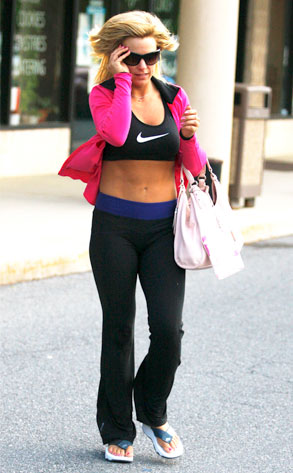 C. Watts/INFphoto.com
We're all pretty lucky today—Kate Gosselin has something very special she'd like to show us. Don't get too worked up, it's not as exciting as like a secret adopted baby, but she's trying!
Everyone please check out those DWTS abs!
She must have been saving those all this time, just waiting for the right moment to pull them out for a little impromptu photo shoot.
But we do have to give her some credit.
At least she's actually inside the state lines of Pennsylvania. If putting on a little muscle show for the paparazzi is what it takes for her to stay home and not run off to NYC or L.A. for camera time, then fine. It's probably better that way for all of us, including the kids.
Although this probably means a bikini bod magazine cover is coming our way soon. Please no.