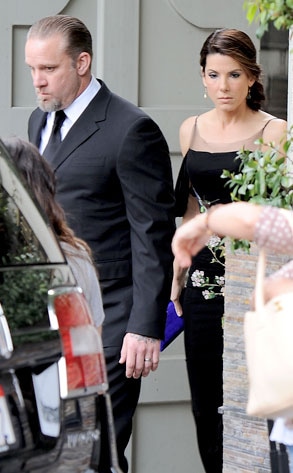 DC Hunter, PacificCoastNews.com
Sandra Bullock filed for divorce from Jesse James last Friday. But no one knew until she announced it—in true bombshell fashion—this morning. So how'd she keep it secret for so long?
Let's just say Robert Langdon would be proud. You know, if he existed.
A clerk in Austin's Travis County Court confirms to E! News that Bullock filed the divorce petition on April 23, but the legal move evaded the media's collective eagle eye because neither Bullock's nor James' name appears anywhere on the documents.
Instead, the petition describes the marriage of "B.A.S." (Sandra's initials backwards—her middle name is Annette) and "J.J.G." (Jesse's initials transposed—his middle name is Gregory). Neat trick, huh?
As expected, the rest of the filing is pretty bare bones, but there are some standout declarations, like the reason listed as the grounds for divorce.
No shocker here, although "conflict of personalities" does have a nicer ring to it than "dude was hanging out with a chick named Bombshell."
"The marriage between Petitioner and Respondent has become insupportable because of discord or conflict of personalities that destroys the legitimate ends of the marriage relationship and prevents any reasonable expectations of reconciliation," reads the document.
Also of note, particularly in light of this morning's shocking news that Bullock adopted son Louis Bardot Bullock earlier this year, is this:
"There is no child under eighteen years of age or otherwise entitled to support who was born or adopted of this marriage and none is expected."
Of course, it is true: Bullock is completing the adoption as a single mother, and she definitely does not require financial support.
Privacy, on the other hand…
—Reporting by Claudia Rosenbaum and Whitney English

(Originally published April 28, 2010, at 9:44 a.m. PT)