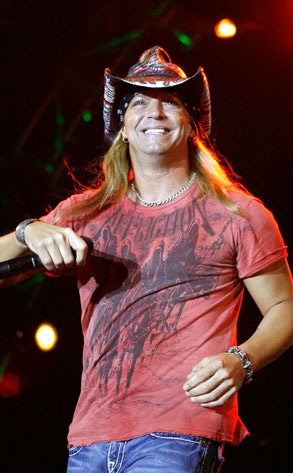 AP Photo/Gus Ruelas
At least Bret Michaels is close to home.
E! News has learned that the ailing rocker, who suffered a brain hemorrhage last week, is being treated at the Barrow Neurological Institute at St. Joseph's Hospital and Medical Center in Phoenix.
"A team of world-class neurologists have been treating him for the last several days," says a source. "He's getting the best care he could possibly get."
St. Joseph's isn't too far from where Michaels lives with girlfriend Kristi Lynn Gibson and their two daughters.
Michaels' rep confimed earlier today that the Poison frontman remained in critical yet stable condition at an undisclosed hospital. Recent tests showed that the hemorrhage had caused the 47-year-old diabetic to develop hyponatremia, a sodium deficiency in the body that can cause seizures.
A St. Joseph's spokesman told E! News that it had "no information" on whether Michaels is a patient there. Added his rep: "Bret is at an undisclosed hospital and his team is not releasing any information for security and privacy reasons."
—Additional reporting by Whitney English