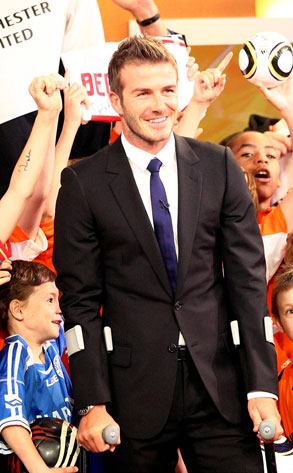 Fame Pictures
L.A. Galaxy soccer stud David Beckham may still be on crutches due to an Achilles injury, but clearly that's not stopping him from keeping up with his grooming. 'Cause he still looks smokin'.
Beckham showed up to Good Morning America in a casual outfit but switched into a suit and tie before he signed autographs for fans and discussed his disappointing injury.
Mr. Posh Spice doesn't look like he has aged a day since he first hit the soccer scene—must be all those sweaty workouts keeping him young!
Besides being one of the world's most talented athletes, Becks is a style icon, and can obviously pull off whatever look his hunky heart desires.
But how do you like your Becks, soccer chic or business casual?