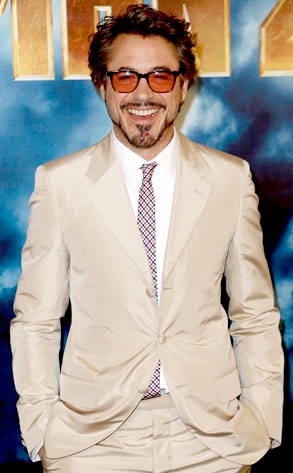 AP Photo/Matt Sayles
As Iron Man, Robert Downey Jr. battles some ferocious enemies, but he may have met his match in Gwyneth Paltrow, who returns as his character's love interest in the highly anticipated sequel.
"I couldn't get her off of me. It was embarrassing," he said, recounting the pair's onscreen love scene while at a press conference Friday.
Paltrow remembers things a little differently. "It was great because both my husband [Coldplay's Chris Martin] and his wife [Iron Man 2 executive producer Susan Downey] were right there."
Downey, however, had more to reveal about his costar's reaction to his onscreen romantic prowess….
"She said to me that I didn't know what I was doing, like it didn't feel good," he said. "I'm like, 'You know what? First of all, we're all friends, so what would be creepy would be if I was coming off all sexy to you—which, by the way, I've done that in movies and it creeps them out. So what am I going to creep you out for?'"
Paltrow laughed off Downey's contention that he needed to tone down his iron-clad allure, but the erstwhile Tony Stark had the last laugh.
"Despite what she said on set, she still thinks about it."