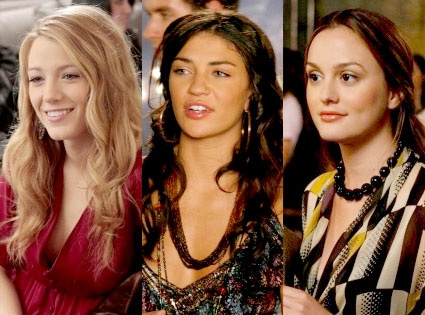 Giovanni Rufino / The CW
Forget about Chuck and Blair! The real craziness that's going down toward the end of this season of Gossip Girl is all about who's saying goodbye.
On the heels of the news that Taylor Momsen's Jenny Humphrey will be leaving the Upper East Side this season, I'm told now that yet another female regular will be heading off into the sunset. (And leaving one heartbroken boy behind.)
So who is it? And what's the latest on Grey's Anatomy, The Vampire Diaries, Glee and more? Here's the scoop.
Becky in San Diego: Glee news please!
Good news for you out-of-towners and shut-ins! The Glee panel I'm hosting tonight with the full cast and producers will be streamed live at www.emmys.com/glee so you can join in the fun. If I leap across the stage at some point to bearhug the whole cast, please tell security it's out of love. (I'm checking to see if it will be available anywhere after the fact, because some of you are asking. Stand by.)
Marcio in Ipswich, Mass.: Could we get some news on One Tree Hill or Melrose Place? Will they both stick around?
Nope. I'm told Melrose Place is pretty much a goner. It would take a miracle for it to survive at this point. However, the jury's still out on One Tree Hill. The ratings in the next few weeks do matter, and it returns with a new episode tonight. (Hint, hint.)
Pratice in Alaska: I'm hearing Megan Mullally will be back on Parks and Recreation. Any truth to the rumor?
Megan just told us the same thing and while we're still trying to erase the image of her and real-life hubby Nick Offerman [Ron Swanson] going at it on a diner tabletop out of our heads, her comeback sounds fantabulous. "We're shooting the week of May 3, and it should be quite something from what I hear. They're pulling out all the stops, packing a lot of whallops." Also, we've seen Rob Lowe and Adam Scott's P-Rex debut and it is high-larious. Seriously folks, you might find yourself forgetting about that one show Rob is leaving. What's it called again--Siblings? (Joke!)
Bob in Oakland, Calif.: Are we gonna see my girl Kristen Bell again on Party Down?
Yes! Adam Scott spilled the scoop: "When the season starts, Uda (Kristen Bell) is my steady girlfriend. But then Casey (Lizzy Caplan) comes back into the fold and kind of screws everything up." Thus freeing Kristen to reteam with creator and executive producer Rob Thomas for a Veronica Mars movie, right? We kid. But don't give up hope yet: "I'd love to do one," said Rob at the Party Down Paley Center for Media celebration for the show's second season premiere. "Kristen would love to do one...We [just] need someone to pay for it!" Empty your piggy-banks, kids!
Kathy in Bel Air, Calif.: Please tell me we'll see Dana Delany back on Castle soon! She was so great in that dramatic role.
She was pretty darn spectacular, wasn't she? And you're not the only one begging for more Dana Delany. While nothing's been decided yet, besides the fact that she's working on another ABC pilot as we speak, Castle's Nathan Fillion is down for more D.D., too.  "She set this place on fire," he tells us. "Those two episodes were huge! If she's got some time in her busy schedule, we'd love to have her back! I've worked with her now three times! I've got the Dana Delany trifecta...not a lot of us can say that." You lucky dog, you!
Humphrey in Dundee, Ore.: Did you decide on a moniker for Casey and Morgan on Chuck?
We did! First, thanks so much for all of the hilarious suggestions. It really made it difficult to pick just one, but ultimately what's a better fit for an odd couple fighting off bad guys than--drumroll, please--Crimes! "Crimes, your go-to CIA crime fighters!" Love it! Also, guess who's a seriously kickass spy? Morgan! Maybe a life filled with video games doesn't turn your brain to mush after all.
Bonnie in Washington, D.C.: V! V! V! Please.
V's Laura Vandervoort tells us her sweet and demure Lisa, aka heir to the Visitors throne, is about to make a change. "Lisa really gets to change and becomes edgier in the last few episodes. It's great." Like having some sexytime with earthling Tyler? Oh wait, she can check that off her list.
Marlo in London: What's the scoop on Vanessa and Dan on Gossip Girl?
It's not looking good long-term, sorry! I'm hearing that Vanessa will be leaving not only New York but the country before the end of the season--running off to a superfancy and superfar job with CNN. So yes, Jessica is the second female, along with Taylor Momsen's Little J, to head off into the sunset. The good news? I'm told by sources that both ladies will still be series regulars next season. As for you wondering what Little J will do that leads to her departure, I'm told "it's a culmination of lots of things Jenny does to multiple people." That doesn't sound good at all!
Matthew in Philadelphia: What's the word on Gossip Girl?
Don't expect Serena to continue to sit idly by while Jenny tries to hone in on Nate. The onetime pals and now stepsisters are headed for some seriously rough times ahead.
Marlene in Boston: Kristin, as the Lost finale gets closer I don't want to know too much so I can enjoy it spoiler-free, but I can't take the wait! Any little tease you can give?
That heartbreak I keep teasing to you? It's soon. And it's multiple. Also, I think most of you will be very satisfied with the very end. I'm hearing sad tears now, happy tears later. So be strong and keep the faith, y'all.
Pete in Annapolis, Md.: Thanks for the clip of tonight's Chuck. But what the heck is up with the "final mission" talk?!
Don't you worry your pretty little heads about a thing. Chuck and Sarah move full speed ahead with full-on coupledom this week, ultimately deciding that they need to escape the spy life here and now in order to make it as a pair. But Chuck's intersect and Sarah's instincts make that task not so simple. (Bottom line: The show is so not over yet! And neither are their lives as spies.) You're gonna LOVE tonight's episode.
Wendell in Miami: Can you tell us who the big breakup and hookup is on Grey's Anatomy?
The breakup is, sadly, the one you're all assuming. The hookup is Sloane and Reed, and Lexie is not going to hide her disapproval from Reed, taking little jabs at her in front of patients. Clearly, Lexie is not over Steamy. Grey's returns this Thursday so you can start seeing it all unfold.
Jack in Rhode Island: I think Matt Davis is awesome on The Vampire Diaries. They aren't going to kill him off, are they?
Thanks to Alaric's fancy lifesaving ring (take that, Damon!), and the producers feeling the same as you, I'm told that Matt is sticking around. No plans to off him.
Wallace in Miami: How about some news on Damon on TVD? I'm kind of wanting him to go back to being evil. Will his good side stick around long?
I'm told he'll always be in a gray area, between good and evil. And hello, he has done plenty of evil things as of late, including slaughtering (he thought) Alaric and snapping his kindly neighbor woman's neck! If you don't think that's evil, I hope you don't live on my street.
Penny in Tuscon, Ariz.:  I love that Jeremy's not in the dark on The Vampire Diaries anymore. What's ahead for him?
Jeremy and vampire Anna will find their way back to each other, even though she bailed when she learned about the whole Vicki situation. Sadly for J, his relationship with this little lady doesn't end up much better than the latter.
Jenelle from Conn.: Yay! One Tree Hill is back tonight! The death of Haley's mom made for such a great episode! What happens after?
Well, when we talked to James Lafferty, he had this to say: "Haley has a long road ahead of her in dealing with her mother's death, as anybody would. A big part of the Scott family life will be dealing with the grief. It's definitely a growing experience for the family." Another tease? Here's the deal with Nathan for the rest of the season: "He's finally got some time to spend with his family, and his family at this point in their lives really needs him," James tells us. "He really gets the opportunity to be a father and a husband." Model husband and father? Adorable.
Evelyn in Tacoma, Wash.: 90210 is really getting good, but how are things going to go down between Debbie and Harry if Rob Estes is leaving?
Believe it or not, Annie's going to be the one to point out the marriage woes between her parents, causing them to really sit down and talk things over. But when Debbie finds out that Harry has pretty much enabled Dixon's little gambling problems, something (one would find in a diaper) is going to hit the fan.
Jasper in Kansas City, Mo.: Gimme some Manny news on Modern Family!
Poor little Manny can't catch a break. While other kids his age are out having fun, he'll soon become too traumatized to leave the house after Jay takes him to his first scary movie. Payback is a bitch, innocente! It's a pretty funny storyline. I know. On Modern Family? Ya don't say!
Heather in Fontana, Calif.: Any more Modern Family fun?
Fred Willard shows up as Phil's motor-homing pops this week and is even funnier than our last glimpse of him on a webcam at Christmas. Among the many things he brings along for the Dunphys is a brand-new dog. No word yet on whether he's a butler. And remember when we told you Cameron would be joining a band? Turns out he's a total badass on the drums and outshines the other kids--including Hayley's boyfriend. "It's the thing I'm most excited about," Eric Stonestreet (Cam) tells me of his band gig.
Brandon in Ames, Iowa: Any action over on The Big Bang Theory?
Penny's going try and venture into the dating game again. Unsuccessfully, of course.
NBC Photo: Paul Drinkwater
Hector in San Antonio, Texas: The Office, please.
Michael's got a girlfriend--whoop, whoop! When's the last time we were able to say that? It's not all lollipops and sunshine though, and Michael sends Dwight on a mission to discover if Amy's cheating on him...which she is totally not. Oh, and remember that pregnancy pact Angela and Dwight signed a few weeks back? Looks like she's not backing down that easily. Time to lawyer up, Mr. Schrute.
Trina in Suffolk County, N.Y.: Any fun stories in the next few episodes of Community?
Annie's sexy boy-toy, Vaughn, will be back before the season's end. "Vaughn's hanging tight. So, you'll see more of him. It's a fun episode!" Alison Brie tells us. We're thinking that much-talked-about prom finale.
Morgan in Los Angeles: Is Jack ever going to pick a lady on 30 Rock?
Guess whose mommy is coming to town? Still dragging out this whole Avery (Elizabeth Banks) or Nancy (Julianne Moore) conundrum, Jack's terrifying mother takes matters into her own hands, and you can just guess how well that's gonna go.
DeeDee in Prescott Valley, Ariz.: Any other scoop on the brutal battle ahead between Pete and Violet on Private Practice?
Following the court showdown that brings pretty much everyone in the practice to their knees, Violet teams up with Derek Shepherd's sis, Amelia, to treat a patient forced to make a life-or-death choice about her own future. Maybe this will put things into perspective for little ol' Violet, huh? Maybe?
Margo in Austin, Texas: I love The Good Wife. Tell me there's something good ahead.
And the winner is...well we can't spoil it for you, but there will be a champion in the battle between Alicia and Cary in The Good Wife's coming weeks.
Rose in Maui: What's coming up on Parenthood?
Papa Zeek is having some serious financial woes, and perpetually strapped for cash daughter Sarah is going to get wind of the pretty dire situation. And Julia will finally get some face time with Sydney when she becomes her youth soccer coach.
Madison in Atlanta: I'm running low on Castle news. Got any?
Stand by for scoop from the set! In the meantime, I have a whole tasty helping for you courtesy of superchef Rocco Dispirito. Get it--Rocco, chef, tasty helping? No? Anyway, tune in to see Rocco as himself, and also a huge fan of Castle's books in a few weeks. Things get complicated when Beckett's old high school friend (aka Veronica Mars' Julie Gonzalo) comes around and finds herself attracted to the aforementioned author. Catfight anyone?
Lisa in Akron, Ohio: Isn't Entourage returning soon? I'm dying for some E-Sloane love scoop!
Entourage is back in June, and we actually just caught up with Emmanuelle Chriqui (Sloane) and Perry Reeves (Mrs. Ari) being their usual tight-lipped selves: "I haven't read anything yet," says Emmanuelle (yeah right!), but we think we may have uncovered some seriously good Sloane-E news. Perry actually referred to Sloane as an Entourage "wife"! Whaaa?! True story, tubers. Says Perry: "Why aren't Sloane and Mrs. Ari friends? Now that she's going to be the wife, I've got to break her in, show her the ropes." Whoo and a hoo. Let's just hope this wedding happens.
Saundra in Salt Lake City: Are you still in the dark as to what Tara's big secret is like the rest of us on United States of Tara?
We're in the dark, but with just a tiny bit more light than fans. Make sense? Let's just say this: Tara's deep dark secret, and the reason behind her ever increasing number of alters involves her sister, Charmaine. Can you believe that? Something pretty dreadful happened to the girls when they were younger--something in or around a basement--and United States of Tara is starting to piece it together for us...so stay tuned. 
Chloe from Chicago, Ill.: Nurse Jackie scoop, please!
Next episode, called "Bleeding", will bring a motorcycle accident victim into the hospital. The interesting part? The All Saints gang saves the life of someone who didn't necessarily want to be saved. Cooper enjoys life in the spotlight after his "If Looks Could Cure" campaign goes citywide, and Jackie falls off the wagon. In lots of ways.
Audrina in San Diego: I'm really digging V. Good stuff is coming up, right?
Ryan is thisclose to telling Val about their hybrid baby. Hmmm, wonder how that will go over with the mom-to-be? And speaking of mama drama, Anna is going to offer Erica's son, Tyler, an opportunity to live aboard the ship. Something tells us her motives might be self-serving with this one.
Danielle in Tallahassee, Fla.: I need some Supernatural news, please.
Dean is about to embark on very dangerous and expensive deal with Death. And no, we're not talking financially.
--Additional reporting by Megan Masters and Jenna Mullins