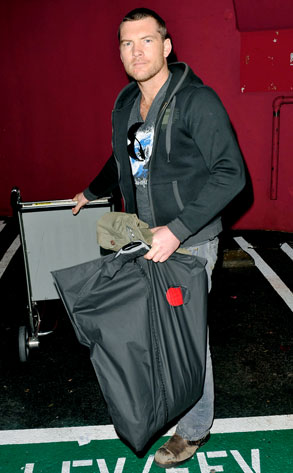 INFphoto.com
Dear Ted:
So what information do you have on Sam Worthington? He's being cast for so much lately, and I love it. What is the deal with his GF? Are they the real thing? He seems super low-key and not into the fame whoring that we see so many stars up to lately. But any juicy deets on the hottie? BTW I adopted a rescue two years ago by the name of Chelsea, but I call her Toot. What can I say...I love her to death.
—N
Dear Worthy of Worthington:
The dude is totally it—and straight for you lucky ladies (or haters who claim that I think everyone in H'wood is gay). But that doesn't mean he doesn't have a few secrets hidden behind his big blockbuster persona but rather small stature. Let's just say some of Sam's fellow Aussies think he still has the gruff, woman-ogling ways of the bricklayer he used to be. Hot!
Dear Ted:
My friends and I have a pool going on how much longer we think Skarsworth will last. Some are convinced that after the spectacle they made of themselves at Coachella, the clock is quickly running down on these two. While others, myself included, are sure that Miss Bosworth will happily ride the True Blood publicity train until fall. What's your guess?
—BronxBetty
Dear Gamblers Anon:
I'll put $20 on the former.
Dear Ted:
Socioeconomic inequalities aside, can you really blame Michael Douglas for coming to his son's defense? If I were in his position and my child was facing years in prison where, as an obviously affluent inmate, he or she would be the target of rape and abuse, you can be damn sure that I would do everything in my power to prevent this. At his own admission, Michael Douglas was a terrible father, and he's obviously trying to atone for this. Cameron needs help, but tough love doesn't have to come in the form of exposing him to abuse while he rots in prison.
—Morgan