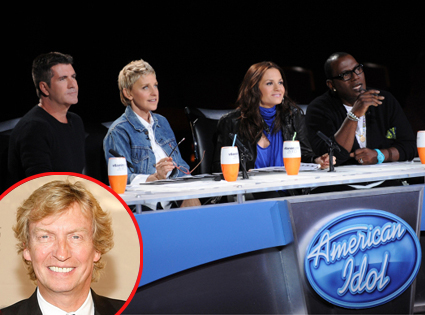 Michael Becker/Fox; Mathew Imaging/Getty Images
Forget about voting contestants off American Idol. An original producer of the series thinks it's time to give all the judges the boot, too.
"I think over the last couple of  years, the show has been about the judges, whether it was Kara [DioGuardi] or Paula [Abdul] leaving or Ellen DeGeneres joining," Nigel Lythgoe told us last night at BritWeek 2010's Save the Children and Virgin Unite benefit in Beverly Hills.
"It shouldn't be about the judges," he said. "It should be about the young talent. And once we get that into focus, the show will be successful again."
And yes, Lythgoe already has an idea of who he thinks should replace the trio…
His wish list includes Usher, Elton John and the return of Ms. Adbul, Lythgoe told Zap2it yesterday.
"Usher knows exactly what's going on at the moment," Lythgoe explained to us. "Elton John knows about being a star [and] he's capable of knowing what's needed. And Paula is the heart. She's always been the heart. Paula has always cared about everyone."
Meanwhile, Lythgoe says he's not bothered by a recent opinion poll that lists his fellow So You Think You Can Dance judge Mary Murphy as one of the worst television judges of all time. "I'm not worried about it," he said. "Mary Murphy is a fabulous judge. She knows what she's talking about and she speaks from the heart."
We couldn't agree more. Mary can ride our hot tamale train anytime!
________
In other music television news, ya gotta check out today's Gossip Guru videoblog for some scoopage on Glee.