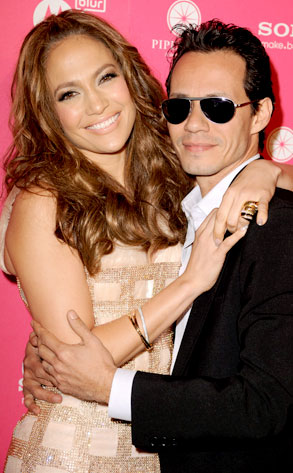 Steve Granitz/Getty Images
Jennifer Lopez may not be as huge a phenomenon as she was back in her Diddy and Ben Affleck days, but she still caused a total photog frenzy when she hit Us Weekly's Hot Hollywood party at Drai's last night, where she was honored as their Style Icon of the Decade.
The mom of two was rocking a nude dress and a big smile, and arrived arm in arm with Marc Anthony, who wore sunglasses (at night—ick).
But Marc's obviously doing something right. When asked what makes her feel sexy, it wasn't cleavage-bearing Versace dresses, Bentleys or being bootylicious...it's her hubby!
"Him," she told reporters, while pointing to Marc.
Inside, the two continued their lovefest...