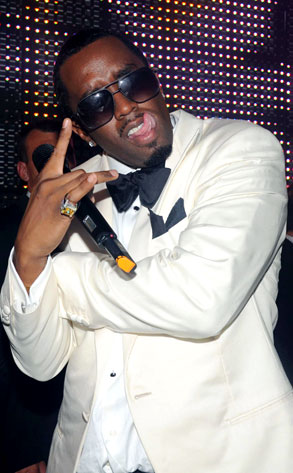 ANG/Fame Pictures
Sean Combs must be feeling nostalgic.
The nickname-friendly hip-hop mogul, whose "official" alternate moniker has metamorphosed over the years from Puffy to Puff Daddy to P. Diddy to Diddy and so on, has decided to take a cue from his past.
Although his rep has denied reports of a name change, Combs has indicated on his MySpace site and via a guest appearance on a new single that he is reclaiming Puff Daddy, a handle he hasn't used since 2001.
"They call me Puff Daddy...he's back," Combs raps on the remix of former stylist O'Neal McKnight's single "Check Your Coat," which also features Greg Nice and Jermaine Dupri.
"Yeah, you heard me right—I said Puff Daddy," he continues. "I'm about to back on that Puff Daddy s--t."
Sounds pretty convincing.
Although he originally wrote "This is your boy Puff Daddy!!! Yes Puff Daddy" in a blog entry on his MySpace page, a new entry, dated today, now reads, "This is your boy P.Diddy, the King of the Remix..."
So which is it, Diddy? Er, Daddy?
Well, he certainly doesn't like the idea of anyone else trading on the name Puff Daddy, whether he's using it or not.
The multihyphenate's legal camp recently sent a cease-and-desist letter to cufflink seller Cuff-Daddy.com, warning the niche business that its name is way too close to Combs' second stage name.
It's unclear whether the current reversion to Puff Daddy has anything to do with a British court's decision in 2006 that Combs couldn't go by Diddy in England because U.K. record producer Richard "Diddy" Dearlove had already been using the name professionally for years.
"It's only fair that since he said he used Diddy first, that he be allowed to use it," Combs said amiably at the time. "I am blessed that I have many, many names to choose from."