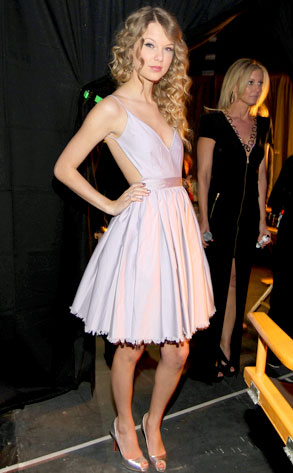 Christopher Polk/ACMA2010/Getty Images for ACMA
Dear Ted:
Taylor Swift has been lying kind of low after lots of reports of her with various guys. It seems no one really knows for sure who she's with, and she hasn't allowed questions about her personal life for a long time. She tweeted about being back in LA to shop for "door knobs." Who in their right mind flies from Vegas to LA (probably on a private jet) just to shop for door knobs? I know her rumored last interests are in LA i.e. Mayer and Monteith, but no one has spotted her with either recently. I imagine she has the means to avoid any exposure of her with guys if she wants, so I think those sightings of her with Cory were staged by her or her people. And it seems odd to me how far out of the way she and her people went to avoid her being ever seen with Mayer after January's reports. It seems to me that there's a lot behind the sweet-girl facade. Is she ripe for a B.V.?
—F
Dear Swiftly Single:
You're right about a couple of things: Tay totally could fly under the radar if she wanted to keep her latest boy-toy a secret and her people definitely heard the major uproar when rumors of a fling with Mayer started. And while she may be super sweet, she's a teenage girl after all (and in H'wood, no less)—they've all got secrets, no? Count on it.
Dear Ted:
So curious about these new fan photos of Kristen Stewart and a possible Michael Angarano at Coachella. True, the photos are from the back at a dark concert, but there seems to be a lot of buzz about these pics. Seems unlikely mere days after flying to Budapest to be with someone else. Thoughts? Info? Complete debunking? (Please?)
—AMD
Dear Debunked:
M.A. was M.I.A. when it comes to Coachella. There's a reason all the pictures are blurry, dark, or from behind—to keep the speculation going where there is none.
Dear Ted:
Hi Ted! I'm a huge fan of Star Trek (not to mention the Awful Truth), and I thought the new cast was great! Has Chris Pine or Zachary Quinto ever been a Blind Vice? Best to you.
—Ali