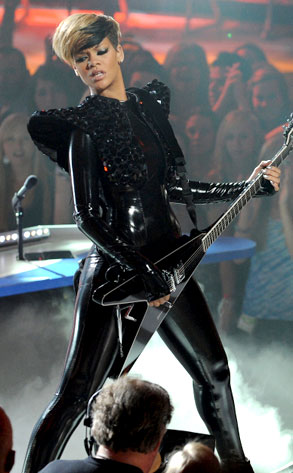 Michael Becker / FOX
UPDATE: We found out what was ailing Rihanna, and her hospital trip was little more than a case of being more safe than sorry. Her rep tells E! News that the singer was suffering from an injured rib and went to the emergency room to make sure it was nothing serious. It wasn't. Rihanna's "OK," and the tour is "great," the publicist says.
________
No one does sensationalism like foreign tabloids, and we're happy to say they have not disappointed!
After giving a flawless performance in Zurich Monday night, the third stop on her Last Girl on Earth European tour, Rihanna's tour bus made a beeline to the Hirslanden Clinic, where the singer, accompanied by a couple members of her entourage, entered the private facility.
Well, cue the headlines of her getting rushed to the ER and theories about mystery ailments, as well as reports of Rihanna breathlessly arriving at the hospital in a speeding, blacked-out Mercedes...