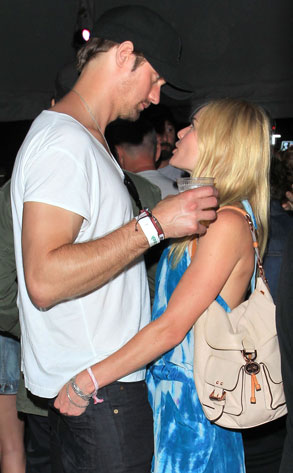 Dome, Jones, PacificCoastNews.com
Dear Ted:
Please out Alex Skarsgård and Kate Bosworth's relationship as the fauxmance/showmance it really is. Something about those two is just...off.
—One lil sparkler
Dear Not Buyin' It:
Skarsgård isn't Toothy Tile, if that's what you're getting at. Kate Bosworth hasn't worked in, what, years now? So it's not like she has anything to promote except maybe attempting to save her Hollywood reputation. Something may be off, but you're on the wrong track just a tad.
Dear Ted:
Here's something I don't understand about the closeted Blind Vices. If the girls are under the impression their relationship is real, wouldn't that technically make these guys bisexual rather than gay, or am I being too pedantic over semantics? In other words, does a beard always know that's what she is?
—leaf
Dear Perplexed:
A beard usually knows what she is (or a little about her man's same-sex past), but there are a few situations where the women is, indeed, out of the loop. In that case, she isn't a beard. Just duped like Topher Hairy Tuchus' first wife kinda was.
Dear Ted:
Why, why, why with the latest anti-Kristen Stewart rant from Deep Twi? Are you a fair-weather K.Stew lover or what? I'm not saying she can do no wrong, but with all she puts up with from the studio to the fans. I mean, really, she has a lot to appreciate, but it comes with a heavy price. It's not her fault she's smarter than this egotistical studio that thinks it can rule the world! In a world of Lindsays and Mileys, I'll take K.Stew any day. New Moon press tour was one of her best yet, so I don't get it!
–E