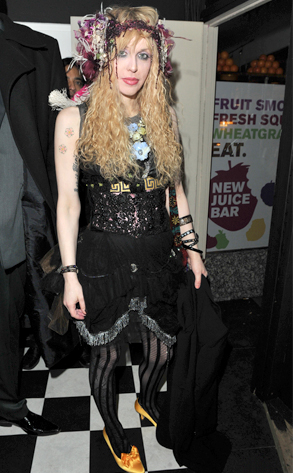 Jon Furniss//Getty Images
UPDATE: That's one small step for normalcy, one giant leap for Courtney Love.
The rocker says her quote about killing off her former stage persona and readopting her birth name were taken "100 percent out of context."
"She's not changing her name, unless it's to 'Courtney Love Mellencamp' or 'Big Baby Jesus,' " her rep told MTV News. Don't give her ideas! Although that second one does have a nice ring to it.
________
What's in a name? Courtney Love's about to find out. Sorry, Courtney Michelle's about to find out.
The ever, um, eccentric Hole frontwoman has announced that she will professionally revert back to her real name—well, real middle name—and henceforth answer only to Courtney Michelle (her birth name is Courtney Michelle Harrison).
"Courtney Love is dead," she told Britain's NME magazine. "We've all decided we don't like her anymore. We love her when she goes onstage, but I don't need her in the rest of my life."