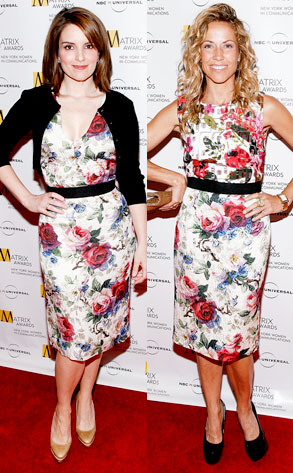 Joe Kohen/Getty Imges
Oh no, it's every star's red carpet nightmare!
Actress Tina Fey and rocker Sheryl Crow wore nearly identical floral-print jacquard Dolce & Gabbana dresses to the 2010 Matrix Awards in New York City yesterday. How embarrassing.
A D&G rep tried to explain to the New York Times that "it wasn't really the same dress," since Tina's is a halter style while Sheryl's has a high neck, which technically is true. But it's not like the ladies both showed up in nondescript red dresses—that print is totes unique and unmistakable.
'Course the faux pas was handled gracefully. When Tina accepted her award onstage, she joked, "If you want to see what this dress looks like on a surfer body, look over there. I wear it with a sweater." Ha, too cute.
But let's see if the various stylists and brand reps are laughing about it today, 'cause somebody's getting hell for this snafu.