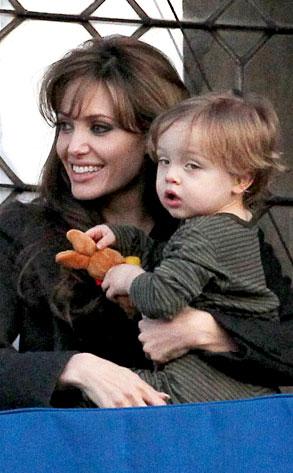 INFphoto.com
Dear Ted:
Why do you criticize Angie for having her kids on the balcony? She and Brad seem to show the kids far less than other A-listers. If you are going to criticize, why not slam Katie Holmes She drags Suri everywhere. If Suri seemed to like the attention from the paps, that would be one thing, but she doesn't seem to. Is Holmes so desperate for attention she is willing to pimp her daughter out? What gives with her?
—Castle
Dear Parenthood:
Oh, get real, Katie trots out Suri because otherwise she'd have to stay at home with Tom, give the girl a break. And I'll give Angie one thing: At least she wasn't dangling her kids off the balcony, à la Michael Jackson.
Dear Ted:
Just read in the Rolling Stone interview that Lea Michele has a boyfriend. Just wondering if you had any clue as to who it is? I wish it were Cory Monteith.
—Dreams
Dear Gleek:
The Glee star is so low-key (she's no Amanda Bynes), trust Lea's going to want to keep us guessing forever. But here's one thing for sure: Cory would be the last man she'd ever be with. And as long as we're in total fantasyland, how cute would Lea be with Glee man-muffin Matthew Morrison? Get out!
Dear Ted:
You were talking in your latest B.B. about the importance of role models. So I need to be sure: is Matt Bomer really as flawless as he seems? He seems genuinely nice, sounds far from stupid in interviews, totally rocks as a leading actor in his show (and the ratings wholeheartedly agree), is rumored to have a loving family life with his partner and is smart enough to keep his private life private. Can I, without risk of being disappointed, add him to my pantheon of celeb role models alongside Anna Paquin, Gale Harold, Kate Winslet or Edward Norton? (I've been severely burned after believing for a little while that Jared Padalecki and Jensen Ackles deserved this place, so I prefer checking with you first this time...)
—Role Models