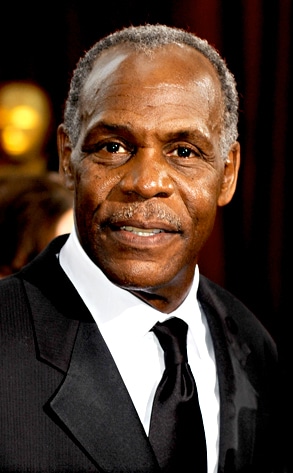 Frazer Harrison/Getty Images
Danny Glover's latest effort to fight for the little guy landed him in handcuffs. At least it didn't involve any more Lethal Weapons.
The Death at a Funeral star was arrested Friday at the U.S. headquarters of French company Sodexo after protesting the food service firm's alleged poor working conditions, among other things.
"No justice, no pizza!" the crowd of 300 shouted.
"We're here today to say no more to deplorable pay and working conditions," Glover yelled before he was led away in handcuffs after crossing a police line. 
The protest was sparked after 16 Sodexo workers were laid off after supposedly trying to unionize. 
Glover's Maryland arrest comes just a month after the 63-year-old star asked Oscar presenters like Quentin Tarantino not to don tuxes by Hugo Boss during the 82nd Academy Awards, in protest of the clothing company's purported plans to lay off hundreds of workers and close plants.
In spite of the arrest, Glover hopped on Twitter Saturday afternoon to let fans know he was okay.
"I'm fine," Glover tweeted. "Andy stern, myself and the org want to thank you all for your support. To get involved or informed go to www.seiu.org."
_______
Danny Glover isn't the only star taking a political stance. Check out more celebs getting all political in our gallery!