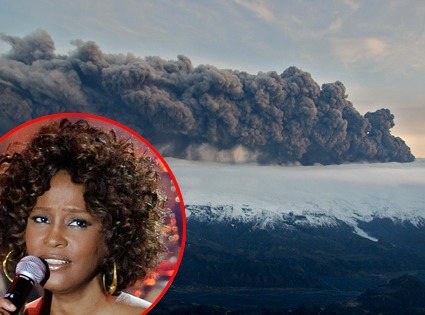 Kevin Winter/Getty Images; AP Photo/Jon Gustafsson
Not that she's looking for excuses, but this certainly won't help Whitney Houston's respiratory problems.
Anyone not living under a rock is aware that an Icelandic volcano has rendered most of Europe a no-fly zone for the foreseeable future, which, for Joe and Jane Public, is fine. But a diva's got to tour!
So Whitney got herself a pair of sea legs and booked her entire entourage on a three-hour-plus ferry ride in order to ensure that she would make it from England to Dublin in time for a concert tomorrow night.
"When Whitney was made aware of the airport closures due to the volcanic ash, she made the decision to drive from Birmingham to Dublin via the ferry so that she would not disappoint her Irish fans," promoters said.
Those Irish eyes are definitely going to be smiling come tomorrow night. That is, once they're done watering from all that ashy air.