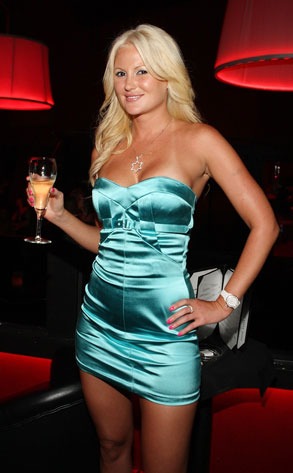 Isaac Brekken/Getty Images
Sucks to be Megan Hauserman. The hard-luck reality-TV star, whose titular VH1 show Megan Wants a Millionaire got derailed by a real-life murder scandal, was collared Thursday night for driving under the influence in Miami.
The 28-year-old blond beauty was weaving between lanes and clocking 75 mph in a 55 mph zone while driving her black 2008 BMW in Miami Beach around 3:15 a.m., Miami Beach police spokeswoman Jenny Velasquez tells E! News.
Officers say they smelled alcohol on her breath and noticed her eyes were bloodshot and her speech slurred.
The former Playboy pinup allegedly flubbed a breath test and was booked on a DUI charge into a Miami detention center. She got out this morning after posting a $1,000 bond.
At the time of her arrest, Hauserman was reportedly on her way to a posh Pompano Beach strip club to emcee a nude $250,000 beauty contest.
The Florida native is perhaps best known for her stint on Megan Wants a Millionaire, the unscripted dating series that was abruptly canceled last year after one contestant, Ryan Jenkins, was implicated in the murder of his wife and ultimately committed suicide.
Hauserman also appeared on VH1's Rock of Love opposite Bret Michaels, I Love Money, and the CW's Beauty and the Geek.
________
Now would be a good time to visit E! Online's Mug-Shot Mania photo gallery.