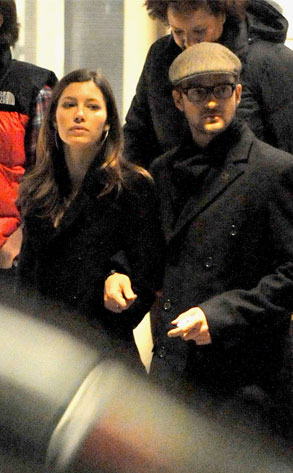 Bauer-Griffin.com
What's a Hollywood couple to do when their rocky relationship is splashed on the cover of Us Weekly? Make a public appearance together, natch.
Justin Timberlake and Jessica Biel were in attendance at Matt Morris' show at The Mint in Los Angeles last night, arriving through the back door and attempting to prove that everything is just peachy keen in the land of TimberBiel.
If you need a recap of the Us story, some of the highlights include how J.T. supposedly makes fun of Jess to his friends; that Biel is superterritorial and pissed her man is working with ex Cameron Diaz; that Cammy and J.T. are totally flirting again; and that Justin is loving every second of the girls fighting over him.
Wow. OK. So what's really going on here?