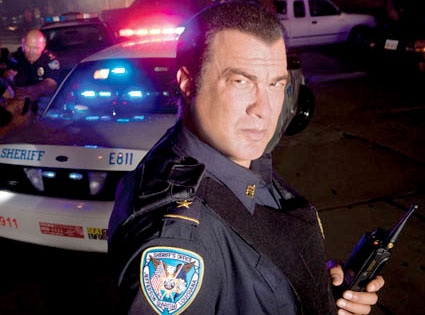 AandE
Steven Seagal is under siege and out of a job.
Production on Steven Seagal: Lawman has been suspended while its star is the target of a sexual-harassment lawsuit, New Orleans authorities said Wednesday, explaining that the ongoing legal case would be a distraction for the sheriff's department that was working with Seagal on his A&E reality series.
Kayden Nguyen, 23, sued Seagal this week, alleging that she believed she was hired in February as an executive and personal assistant, but once the actor flew her out to his Louisiana home, he expected her to have sex with him. She claims that he fondled and groped her several times before she finally fled the house a few days after arriving.
The Hard to Kill star's attorney, Martin Singer, has called Ngyuen's claims "ridiculous and absurd," labeling her a "disgruntled" employee who was fired for using drugs on the job.
Jefferson Parish Sheriff Newell Normand told reporters today that while they've pulled out of Lawman for the time being, his department is not planning to investigate Seagal unless Nguyen files a criminal complaint against him.
If they do investigate, Normand added, Seagal will not get any sort of special treatment.
"We are aware of Sheriff Normand's decision to halt production on Steven Seagal: Lawman at this time and we have no further comment," A&E said in a statement today.
In response to Singer's demand that Nguyen drop her "meritless lawsuit" immediately, in which he told her she was in direct violation of a confidentiality agreement she signed as Seagal's employee, Nguyen's attorney wrote back:
"The cheap shot threats that might have intimidated other victims and their lawyers don't phase me. Save your ink."