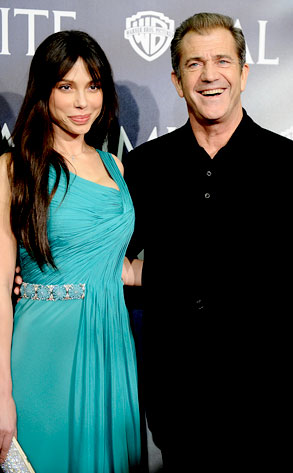 Carlos Alvarez/Getty Images
It takes a brave heart to be with Mel Gibson.
E! News has learned that the actor and his singer girlfriend, Oksana Grigorieva, have broken up. They have a 5-month-old daughter, Lucia, together.
A source tells E! that Gibson and Grigorieva remain friends and are both committed to raising Lucia together, but that the couple had just grown apart.
And apart they will stay.
Gibson, who's currently in Mexico shooting How I Spent My Summer Vacation, is still technically married to his wife of 30 years, Robyn, though she filed for divorce a year ago and they were supposedly separated a couple of years before that. They have seven kids together, between the ages of 30 and 11.
Two weeks after his wife filed the paperwork, Gibson had Grigorieva on his arm on the red carpet at the L.A. premiere of X-Men Origins: Wolverine.
—Reporting by Ashley Fultz