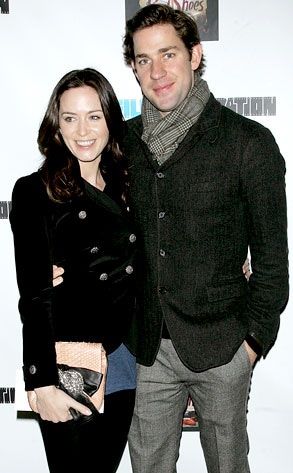 Jim Spellman/Getty Images
The weather is finally getting warmer and you know what that means—weddings!
We brought you the deets on Carrie Underwood and Mike Fisher's summer soiree, and now we've got the goods on Emily Blunt and John Krasinski's big bash.
And it's just around the corner.
The pair announced their engagement in August and will be heading down the aisle in "about a month," a source tells E! News.
"She is planning the wedding right now and is down to the last-minute details," the source says. "They picked up their wedding bands yesterday."
The fashion-forward Devil Wears Prada star has tried on her fair share of bridal gowns, our snitch says.
"She looked at Monique Lhuillier and Vera Wang. She is definitely considering Monique Lhuillier."
As for the event itself, it's looking to be "a big wedding…probably in London or Los Angeles."
Reps for the cutie couple did not immediately return calls seeking comment.
Blunt, 27, and Krasinski, 30, have been dating since November 2008.
________
We seriously can't wait for this wedding…or any of these, for that matter!