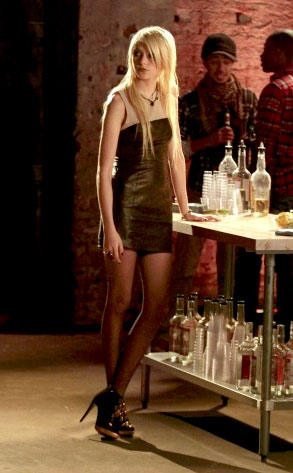 Giovanni Rufino/The CW
"Stop calling Jenny Humphrey a homewrecker!"
It's the recent cry of many of you Little J-loving Gossip Girl fans, who feel we've been treating the Upper East Side's new queen unfairly in recent weeks, calling her the H-word and hinting that she may trying to steal Nate (Chace Crawford) away from Serena (Blake Lively).
Sorry! When I interviewed Gossip Girl bosses Josh Schwartz and Stephanie Savage, Josh joked of the H-word: "We think the word speaks for itself, Kristin." And so, I promise to stop using it...Um, after this one last time, because now, I'm hearing there is very good cause, and it has to do with those rumors that a certain Gossip Girl star is leaving the show.
Also, you want to know who will be hooking up next on Grey's Anatomy, right? And you want news on the death(s!) on The Vampire Diaries? Of course you do; plus, I have the scoop on Glee, Desperate Housewives, Supernatural and more so read on...
Margie in Seattle: Any word on what's happening over on Desperate Housewives since this whole Nicollette Sheridan-Marc Cherry battle is going on?
According to Andrea Bowen, things are A-OK on the Desperate Housewives set: "We're just doing what we're doing and focusing on work and not letting all the hoopla affect it," she told us late last week. Dana Delaney seconded that emotion, saying, "All I know is that my experience is great." Dana also said she's hoping her character will come back. "Right now, Katherine is in Paris with Robin, her girlfriend. So I might be back; I might not be. They might be living happily ever after in gay Paree."
Patrice in Sacramento, Calif.: Any chance we'll hear some original Glee music in upcoming episodes?
Not in the near future, but it's in the works! "There are certainly thoughts of doing that in season two," executive producer Brad Falchuk says. "Ryan Murphy is sort of the music genius of the show, and he manages all the music, and if he says that he's thinking about us doing it, then I believe him." Us too! I'm actually heading to a Glee premiere party tonight and plan to bring you all the scoop first thing tomorrow morning, so let me know any questions you have for the cast, the producers or the guest stars: Joss Whedon, Molly Shannon, etc. You can twitter them to me @kristinalert, and I'll get them while I'm there.
Brittany in Prescott, Ariz.: If Melrose Place isn't renewed, will fans at least get a good send-off?
I'm hearing things are sorta-kinda wrapped up. There are a few things left hanging just in case the series comes back, but by all accounts, Melrose is a long shot to get a second season. (Don't shoot the messenger and throw her in the pool, 'K?)
fancygirl: I'm loving FlashForward now. Any scoop?
I'm hearing good things about the April 29 and May 6 episodes. As you know, April 29 is the blackout date, and although the schedule was changed somewhat so April 29 (which is a Thursday) won't happen exactly on that day, a source tells me we may get the beginning of the April 29 happenings on April 29, and then we see what is set in motion on May 6. More importantly, I'm hearing there is most definitely a chance FlashForward will be renewed, because it actually does fairly well overseas and doesn't hemorrhage as much money as you'd think. A source tells me, "This is a rare case where a low domestic performer could get a surprise pickup." We'll find out May 18, when ABC announces its schedule.
Marissa in Boise, Idaho: You've gotta stop it with the "Jenny is a homewrecker" stuff.
So sorry, but as I hinted above, Jenny is indeed about to meddle, and I'm not referring to Nate and Serena. I'm actually talking about her dad, Rufus, and stepmom, Lily. I'm hearing that Little J is going to try to do some bad things to their relationship, and then...yes, she's going away. But the good news for you Jenny fans (finally!) is that contrary to some rumors you may have heard, she is not dying. I'm told Taylor Momsen will be back in season four. At least, that's the plan.
Mimmi: Any info about the death of a major character on The Vampire Diaries?
I can tell you that there'll be not one, but two major deaths by the end of season one and that the two goners often have overlapping storylines. Any guesses?
Carl in Texas: Come on, please tell us something about Supernatural's 100th episode!
How about telling you it's so good it'll make your head spin? No? OK, here are three true—but very vague—teases for you (sorry, but we just can't bear ruining it for you): One person will die, one person will make a sacrifice and one person will take on a new role.
Shannon G.: We last saw Jasper in the hospital before being admitted into psychiatric treatment. Is this the last we will see of him on 90210, or is there a chance he could pop back into the picture at some time?
Poor Annie's not in the clear just yet! Jasper will most definitely be back and causing more woes along the way. In fact, he's a huge part of that out-of-this-world finale we've been telling you so much about. Well, he and his dead "uncle."
Kassie in Rancho Cucamonga, Calif.: What else is ahead on 90210?
Some seriously big things are coming up in Beverly Hills...I'm hearing the finale shocker has to do with Naomi's big sexual harassment lie, and in the meantime, her evil sis Jen returns.
Adam Larkey/ABC; Ron Tom/ABC
Maggie in Maine: Are Lexie and Mark more than a fling on Grey's Anatomy? I really hope so!
Bad news, Little Grey and Mark fans. McSteamy is thisclose to hooking up with yet another Seattle Grace lady. Your hint? It's not Teddy (Kim Raver). Guesses? It seems McSteamy is getting back to his McSlutty ways, and you Lexie-Mark fans aren't gonna like it one bit—and neither is she, I'm sure!
Jess in West Virginia: Are Callie and Arizona every going to get over this baby-making fight on Grey's Anatomy?
Not anytime soon, sorry. And the birth of Mark's grandchild will bring those issues even more front and center.
Lily in Spokane, Wash.: I have never been a Daniel/Betty fan until now. The latest ep was incredible, their chemistry, palpable! I know filming has already taken place, but I'm hoping that in the end Daniel follows Betty to London. I am totally Team Daniel!
I wish I could tell you all about it in minute detail, but alas, that would just ruin the fun for everyone. I can say that it's a more than satisfying end to the fabulously fun series and that fans of Betty, Daniel or Betty and Daniel will not be disappointed. Do they end up together? You'll have to watch. But I will tell you there is resolution and the promise of some sort of future together between the two, be it friendship or more. There's even a bright future in the works for Wilhelmina that might just have to do with her getting everything she's ever wanted.
Nina in Fontana, Calif.: Private Practice!
Ruh-roh. Violet and Pete's superugly custody battle is about to get a lot worse. The two embattled parents hire high-powered attorneys and bring the rest of the gang into the fight, and things do not bode well for either.
Katrina in Montana: After last night's amazing Brothers & Sisters, I'm dying for some good scoop!
Wasn't the flashback episode so great?! Get ready for lots more Gilles Marini around the Walker hood because Luc is about to become an official part of the family—so to speak.
Jody from Madison, Wis.: Jason Ritter is so adorable on Parenthood. Tell me he's going to be around for a while!
I totally agree with you. Jason Ritter playing Mark Cyr—Amber's (Mae Whitman) teacher and Sarah's (Lauren Graham) love interest—is a wonderful addition to this already stellar show. I can't promise much concerning a happily ever after with Sarah and Mark in tomorrow's episode, (hint: Jason Ritter was cast in a new pilot.), but what's sad news for Sarah's love life is actually a big step forward for her family life. Or so she thinks. In one of the hardest hitting (and best, IMO) episodes of the season, it seems like ends are starting to fray for the entire Braverman clan.
Thomas: Any word on Lost?
Just wait until you see episode 14 (a few weeks away). It is what the kiddies call a "game changer." You're gonna die.
Denise from Wyckoff, N.J.: Glee!
We just hit up a recoding session with she who can wail Amber Riley (Mercedes), and we got some goods for you. Though the "Express Yourself" number will rock, Amber says the highlight of the Madonna episode will probably be Jane Lynch's "Vogue." Probably? Um, we've seen it, and Sue Sylvester getting her Vogue on is the highlight of our year. Like, we all have screenshots as the backgrounds on our computers. Fact. Gleeks can also look forward to numbers from the Doors, Men Without Hats (can we dance if we want to?) and Lady Gaga in the second half of the season.
Charlie in Minnesota: When are we going to meet Kurt's new boyfriend on Glee?
Sorry, Charlie, you'll have to wait just a teensy bit longer until Kurt's new lovah debuts because Glee executive producer Brad Falchuk tells us we won't see that storyline until next year. "We have not cast those new characters yet, and we haven't gotten into that stuff yet. That will be definitely season two stuff," he says. Same goes for potential guest star miss Jennifer Lopez. Good news on what you will see more of in the back nine though—the incredibly funny Brittany and Santana. "It's such a gift to have them," Brad gushes. "They're both really good and really funny—absolutely my favorite stuff to write now."
Julia from Chicago: Wow. Wow. Wow. Bones was awesome last week! I almost cried after the big Booth and Brennan moment at the end. What happens next?
You almost cried? Well, we did cry. So there! But seriously, when we talked to the cast at the 100th episode party last week, we got some scoop on the rest of the season. John Francis Daley, who plays Dr. Sweets, told us that while the 100th episode "may have answered questions from the past, we still have no idea what the future will bring." No idea, huh? What about you, T.J. Thyne? "I'll tell you this much. It (the season finale) sets it up in a way that makes me want to watch what happens thereafter." Guess we'll all just have to gird our loins for that season finale.
Jenna in Augusta, Ga.: Give me the goods on How I Met Your Mother, please.
How's this sound? Barney and Ted are about to get into a fight over…how much they love Robin?! Crazytown, right? Even crazier? It makes Robin realize she's completely over her former loves. We're sensing we won't enjoy much of this episode. Just sayin'.
Brynn in Ohio: What's the what with Leonard and Penny on The Big Bang Theory?
Looks like someone's learning how to use his emotionless self for the powers of good. We are, of course, referring to Sheldon and the lengths he goes to reunite an angry Leonard and Penny with a little white lie. How cute it that?
Betsy in Montpelier, Vt.: What's ahead on Modern Family?
Get ready for the best news you'll hear all day: Cameron is going to be a rock star—seriously! It's Uncle Cam to the rescue when the drummer in Dylan's band quits suddenly. Again, this is serious and we cannot wait! In other Cam employment news, look for one of our favorite Modern Family guys to get a part-time gig at a greeting card shop. High-larious.
Jeffrey in New Jersey: I love Alec Baldwin. Does he have any standout storylines coming up on 30 Rock?
Things are getting ugly over on 30 Rock when both of Jack's ladyloves surface in the same episode. Will he choose Avery (Elizabeth Banks) or Nancy (Julianne Moore)? And lonely Liz decides to hit up some singles events with Jenna. Of course, this doesn't go well.
Wendell in Los Angeles: Is this thing with Matt and Oscar on The Office the real deal?
Kinda, sorta? It's real in that it's happening and not real in that it's not for the long haul and not necessarily a great thing. "It's great having Samuel Daly  on board. It's going to be tumultuous, to say the least. And I hope he gets to come back again," Oscar Nuñez tells us.
Katie in Las Vegas: I need some fun news on The Office!
Will some funny scoop do? On the next new episode, Kevin becomes the star of a viral video hoax, care of Oscar. Has Sesame Street's Cookie Monster ever reminded you of the lethargic Dunder Mifflin man? He might after this.
Keith in Monterey, Calif.: What can you tease about the new batch of Community episodes?
Remember that action-movie-esque episode of Community we've been telling you about for months? We've finally gotten to the bottom of it, and the true story is that Greendale engulfs on a friend's paintball war and suffice it to say, things go awry. Thus, the conceptual episode is born.
Joe from Wyckoff, N.J.: I just can't get enough of Edie Falco on Nurse Jackie. Can you tell me what's coming up for my favorite nurse?
The best thing about Jackie is how far she goes for her patients. A cancer sufferer can't find relief, so she suggests a different type of medication that doesn't sit well with Dr. Cooper. You can imagine why he's pissed. The episode is called "Apple Bong," after all. Plus, Jackie's awesome ways are rubbing off on Zoey, who does a pretty badass thing while waiting for a doctor. Aren't we always waiting for doctors? Sheesh.
Susan in Providence, R.I.: Loving the new season of In Plain Sight, but what's the deal with Mary and Raphe?
Raphe (Cristián de la Fuente) finally realizes this week that his sizzling hotness can never thaw Mary's (Mary McCormack) ice-cold feet about their nuptials—but you never really believed they'd make it to the altar, did you? Another character hitting the road is Mary's sister, Brandi (Nichole Hiltz), who's heading "back east" for reasons we can only speculate...
—Additional reporting by Megan Masters, Jenna Mullins, Drusilla Moorhouse and Marcus Mulick

________
Save One Show has a winner! Go check it out now and see which show fans are hoping survives!