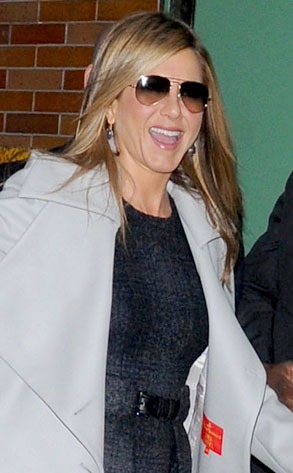 Arnaldo Magnani/Getty Images
Jennifer Aniston is a very wanted woman over in bestie Courteney Cox's Cougar Town.
Not only did the hit show's honcho Bill Lawrence tell our own Watch With Kristin that he'd love to snag Aniston for a guest gig, but now costar Busy Philipps tells us she'd welcome her, too.
"I hope she comes on," Philipps told us at this weekend's 31st Annual College Television Awards in Hollywood. "She's lovely. I've hung out with her with Courteney. She seems adorable."
And what kind of role would Philipps like to see Aniston tackle?
"I think it would be fun to see her be really mean," Philipps said. "That was what Lisa Kudrow did a little bit. She was mean to Courteney, and it was fun for me to see because I'm a huge Friends fan. Anything [Aniston] would want to do I think would be great."
Hey, if another Friends reunion doesn't work out on Cougar Town, how about inviting someone from Dawson's Creek? Philipps, who played Audrey Liddell on Dawson's, says she recently spoke to former costar James Van Der Beek. "I just talked to him!" she said. "He called me to tell he's having a baby…He's going to be an amazing dad. I'm really happy for him."
Which would you rather see—more Friends or some Dawson's Creek on Cougar Town? Leave your comments below.
________
In other TV news, did you hear Jersey Shore is looking for some more Snookis? Get the Garden State details here.