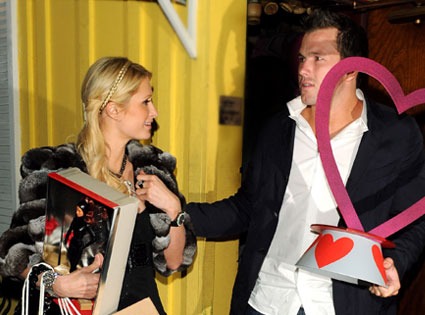 Jean Baptiste Lacroix/Getty Images
Have Paris Hilton and Doug Reinhardt split up for a second time? 
Despite rumors that the two were on their way to wedded bliss, sources tells E! the couple recently split up and that Paris is the one who called it off. "Obviously she broke up with him," says our source.
Still, when asked earlier this week about a possible split, Paris told E!, "all is good."
Obviously, there's more here than meets the eye...
The reported split comes after weeks of Hilton and Reinhardt being photographed out separately. While Paris spent Easter with her family in Palm Springs, Reinhardt was in Aspen with his family.
Meanwhile, this weekend, Paris has been living it up looking single in Las Vegas, partying alongside former friend Kim Kardashian's ex-boyfriend Reggie Bush at Wet Republic and Tao, where they clinked bottles.
Our sources say that Reinhardt had thought about visiting Hilton in Sin City to talk things out.
"He was in Aspen with his dad this weekend and was considering stopping by Vegas on the drive back, but changed his mind," says our source. "I'm pretty sure that's why he went to Aspen...to hide out and try to get over her."
The couple have been spending time apart, but are both due back in town tomorrow. Stay tuned...