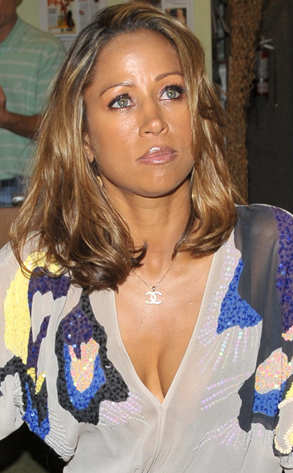 Dr. Billy Ingram/Getty Images
Clueless may describe Stacey Dash's body of work, but not her familiarity with the legal system.
When Jamie Foxx's Oscar date filed for divorced from her hubby of two years, Emmanuel Xuereb, on Jan. 29, the actress also filed for a restraining order against him.
According to court documents obtained by E! News, Xuereb hit Dash and used violent force against her during their marriage and she was too afraid to report it.
"Mr. Xuereb had been drinking, was banging pots and being noisy at 11:30 p.m.," reads a description of an incident on Jan. 23. "Mr. Xuereb came into our bedroom, irate, grabbed the covers, ripped them off me, held me down with a tight grip on both arms. He then threatened me and told me it would be the worst night of my life. He was in a rage and was about to strike me. I was able to calm him down. I am afraid he will hurt me."