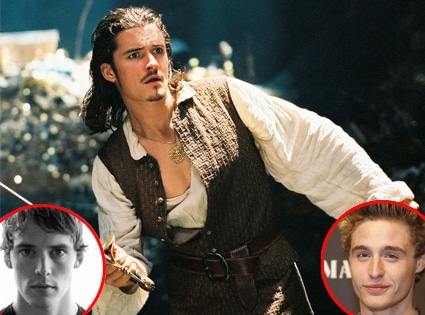 Disney Enterprises, Miquel Benitez/Getty Images
Loyal fans of the Pirates of the Caribbean movie franchise may not be too happy that Orlando Bloom won't be returning for the fourth flick, but there are two guys out there who must be positively thrilled by his departure.
I hear two newcomers are at the top of the list to be Pirates' new young leading heartthrob...
A very well-placed source tells me that Max Irons and Sam Claflin are both in the running to grab Bloom's big sword and fill his swashbuckler shoes.
So who are these guys?
Neither has too much experience, but they sure are lookers. Irons, 24, is the son of actors Jeremy Irons and Sinéad Cusack. He's appeared in a recent adaptation of Dorian Gray with Colin Firth and had a bit part in Being Julia, which starred his dad and Annette Bening. The young Irons has also modeled for Burberry.
Claflin, 23, is currently filming British television series The Pillars of the Earth in Budapest.
Director Rob Marshall begins shooting Pirates of the Caribbean: On Stranger Tides any day now. Johnny Depp will be back as Jack Sparrow, with Penélope Cruz coming on board as Blackbeard's daughter. The release date is set for May 2011.
And get this: Irons and Claflin are said to also be competing for the same role in Twilight director Catherine Hardwicke's The Girl With the Red Riding Hood, opposite Amanda Seyfried.
________
If you're going to the movies this weekend, you really do need to check out our Totally New Releases photo gallery right now. And, of course, TGIF! Don't forget to stay in touch by following me on Twitter.