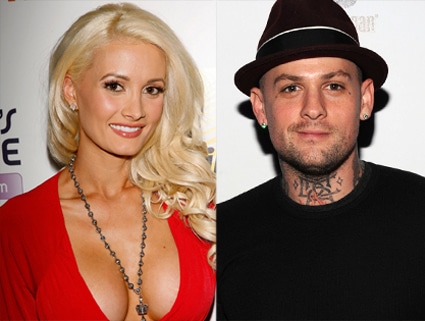 Michael Bezjian/Getty Images; Amanda Edwards/GettyImages
Holly Madison promises she will let cameras roll on her romantic life for her new upcoming E! reality show, Holly's World.
"Absolutely!" she said earlier today from her home in Las Vegas. "I don't have anything really steady or serious right now, so we'll see what happens. But nothing is off limits."
Wait! Nothing steady right now? What about Benji Madden?
We'll let Ms. Holly explain…
"We're hanging out," she said about her relationship with the Good Charlotte rocker. "We're getting to know each other. He's really an awesome guy, but he's in L.A. and I'm here. And he works a lot. My problem is I'm always attracted to workaholics and I'm a workaholic, so that doesn't make a lot of time for togetherness."
Perhaps Madison should consider becoming a sugar mama to some hot—and available!—young man. "That's not what I want," she said, laughing. "I don't want a tagalong dude that has no life!"
As for her workaholic life, Madison continues to perform six nights a week in Peepshow and she's also writing a book about Sin City, among other things. "There isn't much of a visitor's guide for younger people out there," she said. "So I want to do that, matched with some Vegas history and tie it into my show as well. It'll help people plan trips."
We know you want more Holly. But you'll have to come back here tomorrow to find out what she told us about Kendra, stripping down again for Playboy and her plans for a career in…politics!
________
Holly Madison has posed for Playboy and been on Dancing With the Stars. Hey, so has Brooke Burke. Check out today's Gossip Guru videoblog to find out what Brooke told us yesterday when she stopped by E! for an appearance on Daily 10.