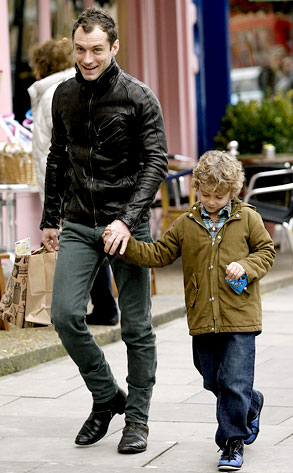 Neil Mockford/Getty Images
You put a picture of the child Jude Law's never met on the cover of your magazine and there's gonna be hell to pay...actually, he doesn't seem to care so much.
But you put a picture of the kids he has chosen to acknowledge inside that same magazine, and there's really gonna be hell to pay.
Such was the tale of woe endured this week by the U.K.'s Hello! magazine, which was forced to shell out nearly $15,000 in damages to settle a breach of privacy suit with the Sherlock Holmes star for publishing photos of Law and his kids vacationing in the Caribbean in January.
But fellow rags, beware: When Jude goes to court, he goes big. Included in the settlement is the express agreement made by the magazine not to publish any pictures of Law either alone or with his kids—until they turn 18—when they're in situations where they have "a reasonable expectation of privacy." Such bastions of solitude include beaches, schools, parks and sports events. (Though this only stops the magazine from printing such pictures, not from them being taken in the first place.)
So, anywhere he goes with Sienna Miller is still fair game?