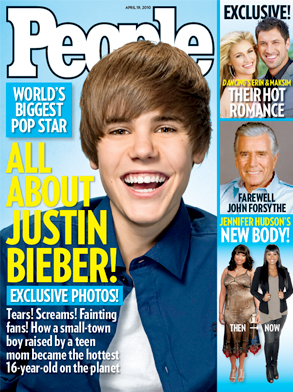 People Magazine
He could have been perturbed by his borderline creepy-looking People magazine cover; instead, Justin Bieber chose to be amused, taking to his twitter, first with a little light-hearted venting:
"Dear @peoplemag covershoot, Next time I laugh real crazy warn me u r still taking pics…still appreciate u but let's get on the same page."
And then with some disarmingly charming self-awareness:
"I look crazy as heck on the cover but if u can't laugh at yourself u ain't havin fun."
J.B. is clearly having fun with his supernova of fame. And when the kid shows that kind of maturity, it's hard not to come down with Bieber fever, even if you're not in the teen chart monster's target demo.