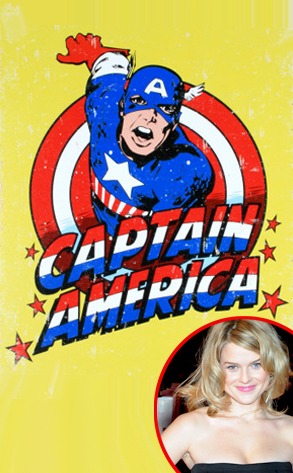 Marvel Comics; Dave M. Benett/Getty Images
Who would have thought that Captain America has connections to Carrie Bradshaw?
A well-placed source tells me that British actress Alice Eve, 28, is the front-runner to play Peggy Carter in the much chattered about upcoming superhero movie The First Avenger: Captain America.
You may not know Eve by name (yet), but…
She's the blond beauty in the recently released She's Out of My League. She'll also be seen next month in the second Sex and the City movie playing Charlotte's nanny.
Also up for the Peggy Carter part is fellow Brit Hayley Atwell, 28. I'm told both actresses are screen-testing for the second time for the coveted role tomorrow in London. I also hear that Keira Knightley is no longer in the running.
As y'all know by now, Chris Evans will play Captain America. It was also just announced that Gossip Girl actor Sebastian Stan has landed the role of Captain America's sidekick James "Bucky" Barnes. The movie is slated for a July 2011 release.
Now, back to the Peggy Carter hopefuls. Eve is on the current cover of Maxim magazine looking, well, out of most guys' league. I'm told she also has a delicious-looking pictorial coming up in GQ.
As for Atwell, she may be headed for New York to star opposite Sex and the City's Mr. Big, Chris Noth, in a Broadway revival of the play Born Yesterday.
________
Does Captain America have a Twitter page? I have no idea, but I've got one. Follow me @marcmalkin.